Exceptional interest and turnout at inaugural JEC Americas Composites Show & Conferences underscores JEC's value to American markets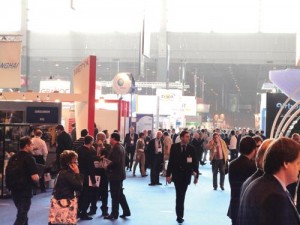 Boston – JEC's inaugural composites conferences and show for the Americas, held at the Boston Convention and Exhibition Center from Nov. 7 to 9, exceeded the composites industry's expectations with an impressive showing of participating companies and expert presenters.
Three hundred and six exhibiting companies (65 percent from North America and 35 percent from Europe and Asia), and 6,698 entries with 4,159 professional visitors from fifty three countries and thirty six states (onsite registration), attended, clearly confirming the interest of the international composites industry in the Americas market. These good results are all the more positive since the show suffered from many last minute attendance cancellations due to the storm that hit New England on the second day.
A success based upon networking and collective energy
JEC Americas aroused great interest with highly technical content, topics and themes tailored to the North American market. The event was heavily supported by composites professionals and companies from the whole composites value chain being drawn to the event by JEC's specialty of bringing strong attention to the interests of composites end-users. Many outstanding companies and start-ups exhibited at JEC's inaugural show.
JEC Americas is supported by JEC Board members. Most of them are headquartered or well-established in the Americas; these include Agy, Advanced Glass Yarns, Cytec Umeco, Chomarat, CCP Composites, Duqueine Composites, Hexcel, Huntsman, IDI Composites, Owens Corning, Porcher Industries and Sora. JEC Americas 2012 Composites Show
Support from partner associations
JEC Americas was backed by partner associations, both from the composites industry and end-user associations based in Canada and the United States, as well as Germany, France, Japan, China and India. Co-located with Industrial Fabric Association International (IFAI), JEC Americas was a success thanks to the mutually beneficial interest from both shows' attendees in the composites industry and the industrial textiles sectors.
Scientific network
Strategic alliances initially built over decades by JEC in Europe and Asia, are extended to America. Prestigious universities enhanced the event, including Stanford University, Massachusetts Institute of Technology (MIT), South Korea's Hanyang University and Stuttgart & Munich Universities, to name a few.
A dynamic market
According to Ms Frédérique Mutel, JEC's President and Chief Executive Officer, "The North American composites market is in full swing. North America represented US $35 billion in value in 2011. It is the largest market in the world. Largely through the efforts of composites industry pioneers, the region is continuously innovating new composites breakthroughs. JEC has been working in the Americas composites industry for over 50 years and our organization continues to be influenced by U.S. entrepreneurs."
"The Americas embody a strong culture of innovation, with passionate composites professionals striving to develop new breakthrough solutions and create new ways to drive the industry forward," Mutel added. "The North American wind energy market over the last years is one excellent example of a sector that experienced remarkable growth."
Knowledge and Networking
After three days of Composites networking and knowledge sharing, the first JEC Americas Composites show scored high marks with participants and attendees. The consensus among those interviewed for their opinions on the event was that it was highly beneficial to their development in the Americas and worldwide. Interviewees agreed that quality of the information and content provided by JEC Americas to participants and visitors was timely and innovative, representing the entire composites value chain – from raw materials producers to end-user companies.
Innovation
JEC's focus on innovation was at the center of discussions and exchanges during JEC Americas 2012. Brian L. Wardle, associate professor of Aeronautics and Astronautics, and director of the Nano-Engineered Composite Aerospace Consortium at MIT, officially opened the Exhibition with a keynote speech about the Boston region's contributions to Innovation in composites, especially in the realm of nano-materials.
Following Wardle's speech, Gene Lavanchy, a lead anchor for Boston's FOX25 Morning News, welcomed attendees to JEC America's Innovation Awards Ceremony, where awards were presented to nine companies representing tomorrow's breakthrough in nine categories such as Aeronautics, Automotive, Reycling or Carbon for example. A special prize was also awarded to TOYOTA for their Lexus LFA that was displayed on JEC Americas Innovation Showcase over the three days.
Award winners included:
Hexcel: Aeronautics Category

Edison2 LLC: Automotive Category

Chomarat: Carbon Category

MVC Solucoes em Plasticos: Construction Category

MPD Designs: Energy Category

Swift Engineering: Process Category

Connora Technolgoies: Recycling Category

CGTECH: Software Category

Cervelo Cycles: Sports & Leisure Category
100+ presentations and 60 Technical Posters
Held in conjunction with the Exhibition, JEC's latest Innovative Composites Summit (I.C.S.) showcased the insights and expertise of top business and technology leaders from important global composites sectors, including Aeronautics, Automotive, Building & Construction and Wind Energy. The Summit also hosted cross-industry forums on Automation, Bio-Based Composites, Carbon Materials, Thermoplastics and Regulations. All together more than 100 presentations and 60 technical posters were presented on this occasion.
Manufacturing large series
The JEC Americas Exhibition floor also included a Live Demonstration Zone in partnership with RocTool, Tencate and Wabash, which featured a cutting-edge production system designed to help expand manufacturing and use of composite materials with new reinforced thermoplastic technologies and a Live Heat & Cool Process. Serving as a one stop shopping event for the composites industry, JEC Americas was attended by companies from the entire composites value chain and representing a range of key industry end markets.
JEC continues to represent in the Americas a one-of-a-kind opportunity for learning, business development and networking in a region representing the largest worldwide composites market. The exhibitor rebooking and the attendee demands, only confirm JEC's decision to come back to Boston for JEC Americas 2013 next October 2-4, 2013 and also for JEC Americas 2014, also in Boston in October 28 – 30, 2014.
Main themes for JEC Americas 2013 will be:
Materials: Carbon & Thermoplastics

Design & Processing, Productivity, Robotization

Application sectors covering Aeronautics, Automotive, Civil Engineering and Security.