Reliable, high performance and highly flexible
Ternitz, Austria, 30 April, 2015: MAPLAN is coming to DKT 2015 with a whole range of new product highlights. This year, the main focus of the mechanical and plant engineering and construction company from Lower Austria is innovative technologies with some very interesting process and automation solutions. "Business is looking very good at the moment. Precision engineering, sensible applications, customer-orientated manufacturing examples – these are key topics for MAPLAN at the DKT this year. Practical and energy-efficient solutions offer great potential to improve value creation", says Wolfgang Meyer, CEO of MAPLAN. Three machines will be putting these words into actions at the DKT.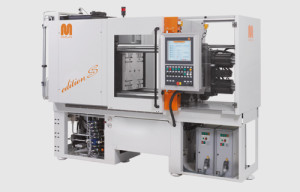 Three different exhibits will be on display at the MAPLAN stand in hall 12, booth 117: a newly developed 200kN "Top-Top" C-frame machine will be on show as the first of a new range of machines. The ICM process (Injection Compression Moulding) with valve gate cold runner technology will be presented on an ergonomic, fully hydraulic 3,200kN machine. The process-optimised application developed in co-operation with Peta Formenbau, demonstrates a very high degree of efficiency and quality in injection compression moulding. The MHF horizontal machine range completes the picture at the DKT: a 2000kN MHF machine shall demonstrate the fully automated zero-defect production of HTV silicone pen holders in partnership with Elasmo Systems and Robotix.
A clever idea: Top-Top range – C-frame machines that close top-down
MAPLAN is showcasing a new C-frame generation that closes from the top down with the MTTF100/20C. The 200 kN machine is the first machine of this range. The 300 kN and 500 kN models will follow shortly. This range is very compact with an excellent footprint to match. Wolfgang Meyer comments: "The real attraction is the well thought-out design which combines both ergonomics with value analysis. In this case ergonomics stands for the user-friendly application of the concept." The fully hydraulic clamping unit with a fixed lower plate has for example made it significantly easier to automate the insertion and removal process of profiles with corner moulding. Displacement of the profiles out of the tool is effectively prevented, resulting in a higher quality of the finished product.
The optimised operation height of the range of machines, in connection with the C-frame design, ensures excellent accessibility to the mould area on all three sides. Conceived on the basis of value analysis, these machines offer a great deal of technology for a fair price. The C-frame which is optimised for stiffness guarantees a minimum of bending with a high degree of plate parallelism. Both effect results in low levels of mould wear when opening and closing and correspondingly low mould maintenance costs. Ideal applications for the new Top-Top range are corner moulding, the manufacture of small moulded parts and/or small batch sizes. Completing the range is a version with an injection unit for manufacturing with TPE.
Energy efficiency of the Top-Top machine range
MAPLAN places great emphasis on energy efficiency even with the standard version, equipped with an energy-saving hydraulic pump with proportional pressure/volume control. Energy efficiency can be further enhanced by means of an optional CoolDrive®. This servo-controlled hydraulic pump offers extra power for rapid dry cycle times for even less energy consumption. This is both good for the environment and cuts production and unit costs. Wolfgang Meyer, MAPLAN's CEO explains: "CoolDrive® really is a success story for our customers: CoolDrive® reduces energy consumption of the drive by up to 50%, while simultaneously reducing dry cycle time and also cutting noise emissions by half. This potential is very attractive for production managers."
Facelift of horizontal and vertical MAPLAN machines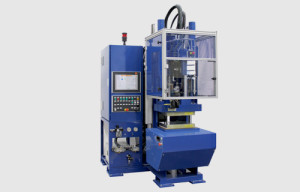 Compact operator-friendly and highly flexible machines with precision dosing and reproducibility are the hallmark attributes of all MAPLAN machines. The modular design enables the combination of machines with clamping forces from 1,000 kN to 8,000 kN with FIFO injection units from 130 ccm to 8,600 ccm, for the horizontal range. The horizontal MHF700/200editionS is an especially space-saving design that still exhibits excellent accessibility. This machine is ideal for the manufacture of flat seals, O-rings, contoured rings and similar rubber articles. Vertical machines are available with clamping forces ranging from 500 kN to 9,000 kN and a choice of FIFO injection units as well as screw/piston injection units from 20 ccm to 26,000 ccm. The spring pre-loaded short, cooled nozzles of the FIFO injection units ensure that only a very small pressure loss in the nozzle area occurs. Screw/piston injection units are deployed on vertical machines with injection from below where a low operating height and comparably large injection volumes are required.
Both of these machine ranges are characterised by rapid reaction low-energy hydraulic pumps with position controlled proportional pressure/volume control. All machines are optionally available with particularly efficient servo-hydraulic CoolDrive® actuators. The revised range from MAPLAN shall be presented at the DKT in the form of a MHF700/200editionS and a MTF1500/320editionS being used in production. The 320 series machine is a further development of the 300 series, whose operating height was significantly higher. The ergonomic operating height which requires no additional platforms is a great improvement to this new model. The new improved 200 series machine has an even smaller footprint and more integrated design than its predecessor.
Vertical MTF1500/320editionS scores highly with ICM process
The vertical MTF1500/320editionS features generously sized heating plates and an optimal operating height. Together with Peta Formenbau from Bad Soden-Salmünster in Germany, MAPLAN will be demonstrating the ICM process on this machine in combination with valve gate cold runner technology. With the ICM process (Injection Compression Moulding), the material is injected into a partially open mould and is subsequently compressed. The process is typically deployed for multi-cavity production of small parts. The finished parts once formed are in a pad, a further process is punching them out. The cost-effective process is used for the mass-production of precision moulded rubber parts. A special highlight on the machine at the DKT will be the injection compression moulding of a double pad with numerous bodywork plugs using valve gate cold runner technology.
Cutting edge valve gate cold runner technology
Usually with the ICM process, the material is applied to the pad via a central hot spreader. This central cone is then on the pad once the parts have been moulded. This however prevents stacking of the pads and thus hinders the automated further processing through punching. Here the valve gate cold runner method provides a solution: through applying the material via a valve gate cold runner directly onto the pad this problem is avoided. The pads can be optimally stacked and automated punching can be carried out. Material application via a valve gate cold runner also has the decisive advantage that compared to applying the material via a hot runner, during the actual injection compression process, no more material can be pressed back into the runner. The technical benefits during the process are significant. Material carry over or torn runners are a thing of the past.
High levels of quality with injection compression moulding (ICM)
Practical experience has shown: a higher number of pads where the material is applied with a multiple spreader can be manufactured with shorter heating times and better quality than just one pad via a single central hot runner system. The technical advantages of manufacturing with the valve gate cold runner process can be fully realised with a multi-pad system, since the flow paths are shorter and the process can be carried out with higher mould and material temperatures. The user-friendly mechanical adjustment of the gate valve gap means it is possible for the operator to accurately control the introduction of heat arising through friction to the material.
The result is an entry temperature of the material into the cavity which has been optimised for efficiency and process quality. An important instrument for the machine operator during this highly effective process is the wide range of control options offered by the PC 5000touch control from MAPLAN. This enables an extremely user-friendly adjustment of gate valve system and has been extended with options for injection compression moulding. Upon injection of the material in the open mould, a time and pressure controlled compression of the material takes place. The result is the production of pads with very low manufacturing tolerances, manufactured to optimal technical and economic parameters.
Strong partners for bespoke automation solutions
The horizontal MHF700/200editionS machines feature an exceptionally space-saving footprint. Compared to the competition, the MHF700/200editionS offers the same clamping force and level of equipment with a footprint which is up to 50% smaller. Despite this compact design, our engineers have managed to make the machine highly accessible. All the hydraulic systems and control components are easily reachable for rapid access. At the DKT, MAPLAN will be demonstrating fully automated production of pen holders with this machine together with its partners Elasmo Systems from Schörfling am Attersee (Austria) and Robotix from Klosterneuburg (Austria). The HTV silicone parts that require no rework, shall be made with a sprueless injection moulding process, fully automatically removed from the mould and placed on a conveyor belt. This machine also demonstrates the high cost-savings potential of a systematically automated vulcanization process.
High-end cold runner technology from Elasmo Systems
The internationally active injection moulding toolmaker Elasmo Systems develops and manufactures injection moulding equipment for the fully automatic production of elastomer parts requiring zero rework made out of rubber, HTV/HCR and LSR. Elasmo Systems is a turn-key provider. For the pen holder application at the DKT, a specially developed cold runner system with a pneumatic valve gate mechanism and control system will be deployed. In addition to the cold runner master mould concept, Elasmo Systems will also be presenting the simple replacement of hardened mould inserts, for example inserts for various O-rings in different sizes.
Fully automatic extraction by Robotix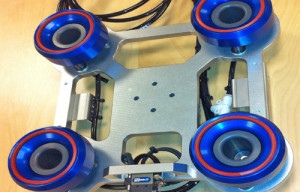 The fully automatic extraction handling system by Robotix has been created using MAPLAN's modular brush unit range. Special features include the two servo-driven main axles. These ensure a rapid and constant cycle time. The servos are integrated in the control environment of the MAPLAN machine and can be accessed via the display of the PC5000 control system. All movement parameters including speed, acceleration etc. for the extraction process can be viewed on the display and altered if required. The extraction process has been developed in close co-operation with Elasmo Systems and MAPLAN. In order to make the complex extraction process possible, the bell-shaped pen holders are blown out with valve gate nozzles. The extractor system has to seal the parts to ensure the stability of this process. The finished parts are placed in-line on a conveyor belt which is integrated in a very space-saving way into the frame of the Maplan MHF700/200editionS machine.
VMV Customer documentation for transparency and faster service
MAPLAN has also raised the bar in terms of customer service. The customer documentation system VMV (Virtual Machine View) offers rubber manufacturers significant advantages. It helps visual searches for spare parts, offers an overview of technical drawings and diagrams and access to the complete machine documentation. The rapid identification of spare parts and consumables enable rapid ordering with reduced wrong orders. If the overhaul or replacement of individual components located in hard-to-reach areas of a machine is necessary, the VWV system provides additional transparency. The user can click through the design menu on the display of the production machine and can hide individual components that obstruct the view to the assembly in question. Online orders can be made directly using the software, making parts and consumables provision even faster.
High-performance spare parts
On the technical side, the customer service team have developed some very relevant practical details. These include coated valve seats which ensure a reduction in the friction which occurs between the valve seat and the plasticising cylinder. This makes possible the easy replacement of valve seats even if they are very dirty after long periods of service. Naturally, the coated valve seats are compatible with all plasticising cylinders fitted to our machines. Peter Zipfelmayer, head of customer service at MAPLAN comments: "this way downtime and maintenance time can be reduced to a minimum." In addition, new feed-optimised screws with a 27 mm cross-section for 400 cm³ and 700 cm³ injection units are available. They are characterised by improved feed behaviour for soft and sticky rubber mixes. What's more, they also allow higher feed rates than the standard screws and if the need occurs, can be deployed immediately as a replacement screw with very little modification of process parameters.
Optimising processes with Cure1 and Cure²
In addition to high-end process optimisation software Cure², the engineers from MAPLAN and CAS have developed Cure1. Cure1 is a low-cost variant of Cure². Cure 1 combines both high performance and excellent usability. With just a few entries, Cure1 can calculate the development of cross-linkage on the basis of given material data together with simplified part geometry. All mix, shot and mould specific data are saved by the system. When production for a part is restarted, "historical" data is immediately available. Cure1's functions can easily be extended with just a few additional modules: for more convenience regarding parameter documentation and entering material data as well as for refining relevant geometry data. Cure1 makes more effective injection moulding processes possible for the operator, the results of which can be seen in reduced cycle times, increased machine availability, higher reproducibility, reduction in scrap and waste and higher quality. The process optimisation software Cure1 will be on display as a preview at the DKT 2015 and will soon be available for all control systems for generation 5 and 6 machines from MAPLAN.
Website:  www.maplan.at