New High-Speed Models Provide Greater Productivity for Precision Strand Cutting

KENT, Ohio, December 9, 2013 – Reduction Engineering Scheer, a leading global manufacturer of strand pelletizing systems, has redesigned its line of pultrusion strand pelletizers, launching a new high-speed series that is accompanied by an extensive range of unique enhancements. The next-generation pelletizing system for fully wetted strand lines helps compounders of long-fiber materials to handle increased line speeds while improving productivity and maintenance.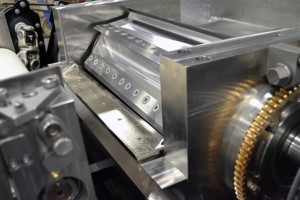 Reduction Engineering Scheer's new LFT Pultrusion Pelletizer delivers twice the rotational cutting speed of previous models, operating at 1200 rpm and allowing for higher linear velocity. "Our next-generation design was developed in response to customer demand for a faster, more productive precision cutter that also offers easy cleaning," said Tom Kernstock, product manager for Reduction Engineering Scheer. The new series of pultrusion pelletizers do not sacrifice performance and are not only faster but ensure the strand control that is necessary for pellet accuracy and quality, according to Kernstock.
The new LFT Pultrusion Pelletizer is available in eccentric and push/pull designs. The eccentric model adjusts the rotor to the bed knife while the push/pull model adjusts the bed knife support to the rotor. The eccentric model has a redesigned ring gear adjustment which allows for precision adjustment and easier accessibility. Meanwhile, the rotor on the push/pull version features a load isolator mechanism which reduces sheer load away from the rotor bearing and allows for cooler operation.
Both the eccentric and push/pull models are mounted on a new slide rail system. The feed rolls and the table are easily movable for easy cleaning and maintenance. A new dust cover attachment is also available.
Another key improvement is the mounting of the adjustable gap cylinder on a stainless steel cover for easy adjustability. A position-locking lift arm connects the cylinder to the upper feed roll. Both models boast a cutting gap adjustment down to 12 microns.
The new LFT Pultrusion Pelletizer has a push distance between the nip point and the cutting point of less than 3.5-in, compared to six-in for previous models. The reduced distance minimizes the uncontrolled strand zone and ensures enhanced quality.Reduction Engineering Scheer offers five commercial models in cutting widths ranging from 12-in to 32-in and a laboratory model for one to two strands.
About Reduction Engineering Scheer
Located in Kent,Ohio, Reduction Engineering Scheer is a worldwide supplier of pulverizers, pelletizers, and rotational molding equipment, and it also engineers and commissions turnkey production systems. Founded in 1994 as a builder of pulverizers for converting pellets to powders, the company began machining rotor knives for Conair pelletizers in 2000, took over assembly of the pelletizers in 2002, and purchased the line from Conair in 2006. In late 2008, the company also purchased the pelletizer business of C.F. Scheer & Cie GmbH, the world's largest manufacturer of strand pelletizers. The production of rotational molding equipment is carried out by a Brazilian affiliate, Rotoline Industrial Equipment Ltda., for which Reduction Engineering operates a sales and service center in Kent. More information is available www.reductionengineering.com