Recyclers are fighting to stay alive as tanking commodity prices bring down the value of recycled industrial and post-consumer materials.
During the past year, the Recycling Depot has slashed its workforce to 15 employees from 35 as it struggles with plunging prices and a lack of demand for scrap metal. Joe Salvatore, who manages Recycling Depot's two Seattle locations, said he's experienced downturns before, but none as severe and long as this one.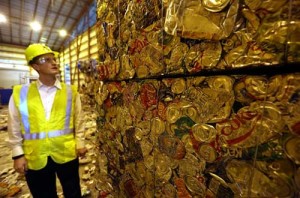 "Let's say somebody brings me a hot-water tank, maybe 135 pounds of steel," he said. "At one time we were paying 11 or 12 cents a pound. … Now we are only paying 1 penny a pound."
His company and other recyclers throughout the country are facing the worst downturn in decades as prices for various commodities — steel, copper, aluminum and oil — have plummeted, putting once lucrative enterprises into survival mode.
Prices for so-called "virgin materials" have fallen so much in the past few years that recycled materials have lost their edge in the market.
"2015 was the worst year in decades, if not ever," for recyclers, said Joe Pickard, chief economist for the Institute of Scrap Recycling Industries (ISRI), a trade group for private recycling companies. "2016 has gotten off to a difficult start."
The recycling industry generated revenues of $106 billion in the United States in 2014, according to ISRI. In the Seattle region, recycling fuels more than 1,600 jobs and about $365 million worth of economic impact, according to ISRI data from 2015.
Industry veterans say this downturn is worse and has lasted longer than previous declines. The industry took a hit after the 2008 financial collapse but bounced back within a year.
"The question is: When is it going to turn around?" said Doug Glant, CEO of Seattle-based Pacific Iron and Metal, a family-owned firm that has been in business for 99 years. "If it doesn't turn around in the next two to three years, then a lot of other companies will not be around. That's sad. Some of them are already struggling and laying people off."
The bulk of the U.S. recycling industry involves materials and facilities the average American never comes across. It involves people who collect scrap materials such as aluminum cans, old appliances, wrecked cars and the like, as well as waste from factories, construction sites and utility companies.
Website:                                   www.seattletimes.com