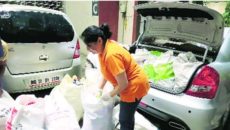 REACH – Important points
REACH is a European Community Regulation on chemicals and their safe use. It deals with the Registration, Evaluation, Authorisation and Restriction of Chemical substances. The new law entered into force on 1 June 2007. Download a brief on this regulation. Detailed information may be obtained from http://echa.europa.eu/home_en.asp.
A points to be noted are given below:
Polymers are not covered under the REACH ambit. The EC regulation clearly defines polymers. However, monomers in a polymer fall under REACH and must be registered.
Among the items that fall under our Council, masterbatches and the ink used in writing instruments fall under ambit of REACH and therefore exporters/manufacturers must take necessary action.
With regard to other plastic processed goods (which possibly fall under the "articles" as defined in the REACH regulation) – these are generally not covered and a communication received from ECHA (the European Agency monitoring REACH) against our query may be viewed here.
It is advisable that all chemicals falling under REACH (monomers, chemicals in masterbatches, inks in writing instruments and other chemicals in polymers) be pre-registered before December 1, 2008. Pre-registration is a one-time facility offered by the European Commission till 1st December 2008 which will give a cushion to the registration.
Registration is a more cumbersome process. The deadlines for registration if pre-registered will be 2010 for imports of the concerned chemical into EU exceeding 1000 MT; 2013 between 100 MT & 1000 MT and 2018 for less than 100 MT.
Pre-registration/Registration has to necessarily be done by a legal entity (Only Representative) in the EU OR an importer/distributor in the EU. Manufacturers/Exporters in India cannot do this unless they have an office which is a legal entity in the EU. In case pre-registration is not done, export to EU from January 2009 will not be possible without registration.
There are consultants to provide this service to Indian exporters. You may also like to visit the Chemexcil website http://chemexcil-reachhelp.com for this purpose.
A brief note may also be downloaded from http://plexcouncil.com/REACH/REACHConsultRecomm.pdf
You may also like to download the guidance for monomers and polymers at http://reach.jrc.it/docs/guidance_document/polymers_en.pdf
Source: plexconcil.com