Demand for plastic goods, especially from households, has boomed in recent years, as manufacturers continue to expand their product range amid fierce competition.
The plastic industry  has grown enough to handle the rising demand from local and foreign markets , said Md Jashim Uddin, president of the Bangladesh Plastic Goods Manufacturers and Exporters Association.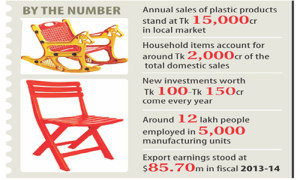 The annual sales of plastic products are estimated to be around Tk 15,000 crore in the local market, which grew 15 percent a year over the last several years, he said, adding that households' items account for around Tk 2,000 crore of total domestic sales. The plastic sector is also witnessing Tk 100-Tk 150 crore in new investments each year, he said.
"We are bringing innovations and adding newer products to the baskets regularly in a bid to increase the use of plastic products," he said, adding that the local plastic goods makers are continually improving their product quality as well.
Though Bangladesh is an emerging developing country and has been growing at over 6 percent on average for the last one decade, its per capita consumption of plastic is well below the regional countries, he said.
Bangladesh's current per capita plastic consumption stands at 3.5 kg, which is around 13 kg for India, said Jashim, also the vice-chairman of Bengal Group of Industries.
Advertisement
The sector has witnessed huge product diversification over the last several years due to people's changing lifestyles, said Kamruzzaman Kamal, marketing director of Pran-RFL Group.
Many people are using plastic goods due to their quality and durability, he said, adding that the country is now capable of manufacturing world-class products.
RFL, which has more than 1,000 household items, is bringing new products in every area where there is an opportunity, he said. Hamko Industries, another leading plastic goods maker, has brought in lots of innovation in the sector.
"We are now adding new products targeting both the domestic and local markets each month," said Md Zahid Hassan, chief marketing officer of the company. An increased number of people are buying plastic goods as they are now necessity items and provide more value for money to customers, he said.
Hamko, which started the plastic business in 2011, now has more than 400 products in the household segment, including kitchenware, furniture, tiffin box and jugs. Bengal Group, RFL, Partex, Talukder Group, Luna, Taj, Lira-Samrat, Sunflower and Hamko Group are now the leading players in the sector.
Though the sector started small in the 1960s, it has now reached a self-sufficient stage, according to Jashim. Around 12 lakh people are now directly and indirectly employed in around 5,000 small, medium and large plastic goods manufacturing units.
The value addition of plastic products is hovering between 51 and 70 percent, according to data from the industry lobbying group. Meanwhile, a United Nations report said Bangladesh has the opportunity to raise its turnover to $4 billion by 2020 if it addresses issues such as infrastructure, waste management, recycling and skills development.
Earnings from plastic exports stood at $85.70 million in fiscal 2013-14, up 1.41 percent year-on-year, according to the Export Promotion Bureau.