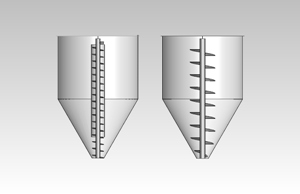 A 20m³ KREYENBORG mixing silo with internal pipe auger has been operating successfully for 20 years at the company PONACHEM (Hamburg).
KREYENBORG mixing silos are known for their excellent homogenization and longevity. Over the course of time, the requirements of the mixing silo (i.e. materials, mixing quality and performance) often change, whereby adjustments of the process may be possible. By replacing the pipe auger with an open mixing screw with special segments, the company PONACHEM gained a better mixing result, a shorter mixing time – 20 minutes instead of 4 hours – and was able to drastically reduce the energy consumption of the mixer.
The results were determined on the basis of plastic regrind. However, this mixing technology is suitable for all free-flowing materials. The KREYENBORG Plant Technology GmbH & Co. KG delivers universal quick mixers as mixing and homogenizing silos for a wide rage of applications in the bulk solids industry.
In addition to the components and systems business to these core components, KREYENBORG also provides modifications and enhancements to existing mixers and special silos built by KREYENBORG as well as other manufacturers.