B. Braun Melsungen AG, a pharmaceutical and medtech company, and Priamus System Technologies AG, specialist for intelligent quality assurance and control systems for injection molding, have jointly developed reliable processing solutions with temperature sensitive sensors.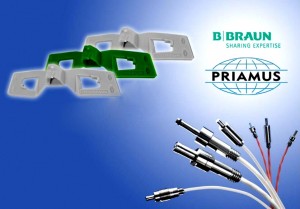 Christian Reich, Sales Representative of Priamus, explains, "For example molds, manufactured at B. Braun in Germany, are sampled and process validated so that all mold data for constant quality are laid down in Germany. During series production in global production facilities the same quality is guaranteed by controlling on these reference data."
The difficulty with different components, which are produced for example with 16 or 24 cavity molds, results from unbalanced filling of the cavities and the therefore caused danger of incompletely filled parts (short shots), which can cause the brake of a mold core. The consequences are high repair costs and downtimes.
Together with B. Braun Priamus has developed a process reliable solution, in which extremely small and highly sensitive cavity temperature sensors, placed at the end of the flow path of each cavity, provide information about the melt front.
These sensors guarantee the simultaneous filling of the cavities by automatically balancing and recognize short shots in real-time in order to prevent the brake of the cores, said Priamus. Furthermore, bad parts are automatically sorted out through the monitoring of the measurement data which are also documented.
By the additional use of pressure sensors the cavity pressures themselves, and in combination with the used temperature sensors, also viscosities respectively their deviations can be monitored. This way guarantees that the required quality is achieved independent from the place of production, according to the company.
The Priamus systems used for this purpose are solely based on information from the cavity, such as the cavity pressure and cavity temperature signals which are monitored and controlled themselves.