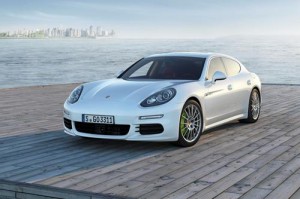 Porsche plans to roll out a powerful plug-in hybrid next year that will accelerate from 0 to 60 in 5.2 seconds and hit a top track speed of 167 mph. Known as the Panamera S E-Hybrid, the new vehicle will be one of raciest hybrids to date, but will nevertheless operate at times without burning gasoline. "It provides a new opportunity for our customers," Nick Twork, a Porsche spokesman, told Design News. "Someone who drives a short distance to and from work can now do it under full electric power."
The S E-Hybrid will accomplish that by employing a parallel powertrain that turns off the car's gas-burning engine under certain conditions. By doing so, it allows users to drive for approximately 20 miles in an all-electric mode. The vehicle will store its electric energy in a 9.4 kWh lithium-ion battery that can be charged in approximately 2.5 hours.
Because the S E-Hybrid won't be officially announced until the Auto China Show in Shanghai later this month, details on it are still scarce. Porsche said, however, that the vehicle will combine a 95 HP electric motor with a 3.0 liter V6 engine. In true parallel hybrid fashion, it will employ a power split enabling it to combine power from both sources under certain conditions.
When the driver starts the vehicle, it will automatically operate in all-electric mode. A button on the console will prevent the gas engine from contributing power unless it's needed.
Top speed of the vehicle is 84 mph during all-electric operation. Drivers can boost the power by pushing the accelerator beyond a detent halfway through the pedal's travel, enabling activation of the gasoline engine. "The detent makes it easier for the driver to learn and discern when the powertrain is going to flip on the gasoline engine," Twork told us. Top speed with both sources contributing is 167 mph.
Fuel efficiency numbers aren't yet available, but Porsche believes its figures will be good due to its comparatively light weight (curb weight about 4,300 lb). "Porsches aren't necessarily the most powerful cars in their segment, but they typically are the best performing and have the best balance," Twork said. "That's because we make the cars lighter."
The $99,000 Panamera S E-Hybrid will offer significantly more pick-up than two of the industry's most prominent plug-ins, the Chevy Volt and Prius PHV. In tests conducted by Edmunds.com, the Volt went from 0 to 60 in 9.0 seconds, while the Prius came in at 10.1 seconds.
The Panamera S E-Hybrid is one of two high-speed hybrids that Porsche will announce this year. The company is also developing a Porsche 918 Spyder that will go from 0 to 60 in less than three seconds, Twork told us. "When we build a plug-in hybrid, our philosophy isn't just that we are making a fuel-efficient car. It still has to be a genuine Porsche."
Source: http://www.designnews.com/author.asp?section_id=1366&doc_id=261782&itc=dn_analysis_element