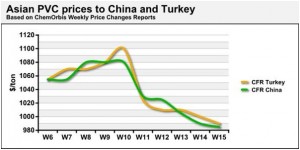 Asian PVC offers to Turkey have been coming lower in line with the global downturn as per the pricing service of ChemOrbis. However, PVC offers from the region have started to be made almost at par with China in Turkey, although they should carry a premium due to the freight difference under normal circumstances.
The $1000/ton CFR threshold was broken by some Asian origins this week in Turkey's import market. PVC k67 cargoes from Taiwan and China are mostly offered below this threshold by Japanese traders, according to market players, while South Korean offers are still offered above this threshold.
In the meantime, April PVC deals for Asian origins have been wrapped up at similar levels in China. Considering the recent freight rates of around $80-85/ton between these two regions, offers to Turkey from Asia would normally stand above the market level in China. The fact that Asian PVC offers are trading at a discount when compared to China is interpreted as a strong sign of weak market conditions and supports expectations of renewed price decreases across Asia.
Indeed, a trader based in Japan reported their May sell ideas for Taiwanese PVC to China with $40/ton decreases from their current offer levels. "We think that prices will be pulled lower by weaker upstream costs and disappointing demand," he said.
More traders predict that prices will witness further erosion before finally stabilizing in May according to ChemOrbis. In order for markets to move back into balance, further decreases are seen probable in Asia. However, the bottom is also likely to be reached in May, in several players' opinion, as demand should begin to improve later this month in line with the start of the high season for many PVC applications.