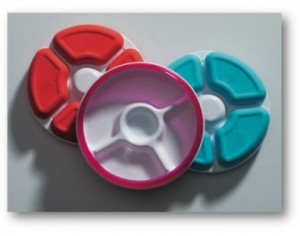 PolyOne GLS Thermoplastic Elastomers collaborated with kitchenware producer OXO to develop the OXO Tot line, an award winning family of durable, attractive feeding dishes that allow toddlers to feed themselves.
OXO chose PolyOne GLS Dynaflex thermoplastic elastomer (TPE) for several components of this new offering. "In a collaborative effort with OXO, PolyOne custom formulated a Dynaflex TPE to meet the specific demands of this application," said Charles Page, Global Marketing Director, PolyOne GLS Thermoplastic Elastomers. "Our TPE formulation expertise enabled us to provide OXO with a tough, durable, attractive, food-safe solution that would stand up to the kind of abuse only a toddler can dish out."
The OXO Tot feeding line, which is free of BPA and phthalates, has received numerous accolades for its design, including a 2012 Bronze IDEA (International Design Excellence Award) in the Kitchen category. As said, the custom Dynaflex TPE was used on several components of OXO's new Tot dishes, including a removable lid that is used to store leftovers, a grippy non-slip base and a separable plate, ring and lid to allow for easy dishwasher cleaning.
In addition to offering a translucent base material that eases color matching for OXO's vibrant color scheme, the material meets both US FDA177.1210 and EU10/2011 standards for food-safe applications. Furthermore, the material's high tensile strength, up to 1100 psi (7.6MPa), exceeds OXO's stringent bite/tear requirement for infant care applications.
Source:http://www.adsalecprj.com/Publicity/MarketNews/lang-eng/article-67003148/Article.aspx