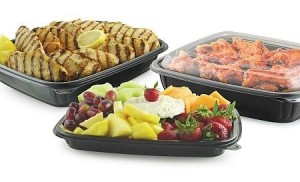 The global markets for polyolefins are undergoing radical changes in balance as the advent of shale gas is moving production towards North America, according to Noru Tsalic, Applied Market Information (AMI)'s leading expert in polyolefins.
Packaging applications like film and rigid plastics containers are looking for active and intelligent materials to preserve the quality of fresh and processed food, whilst offering recycling options to meet environmental targets, he says. The Fraunhofer IVV is developing active packaging options. Top polyolefin companies are also considering building in degradability for short-term packaging with the CNEP in France working alongside Basell Polyolefine Italia and Total Petrochemicals Research Feluy on degradable materials.
Meanwhile Borealis and Lucobit are studying compounding of recycled polyolefins.The clear properties of polypropylene are highly prized in product presentation.  From Japan, Rika and Adeka are innovating in the area of clarifiers and nucleating agents.
At the opposite end of the scale, the construction industry demands long term durability whatever the weather, notes AMI. This is advancing stabilizers, flame retardants and reinforced plastics. There are failure issues to be addressed in this sector. Some polyethylene pipes have been susceptible to damage from chlorinated water so this has been studied by the Royal Institute of Technology in Sweden, looking at degradation and antioxidant consumption. The Fraunhofer LBF has developed microscopic techniques to look at additive distribution after compounding and processing, like phenolic antioxidants in a pipe wall.
The stabilizer options for construction and other long term applications can be tailored to performance requirements. Expert companies such as Songwon International (now with Thomas Schmutz as the newly appointed Director Global Technical Service), Cytec Industries and Chemtura supply into this market. Flame retardants are critical in construction: Kabelwerk Eupen has reviewed the use of nano composites and Professor Wilen has worked with Professor Pfaendner on a project looking at weathering of flame-retarded plastics.Polypropylene is often used in composites and this has its own compounding challenges: Millken has achieved weight reduction and improved scratch resistance with a new reinforcing agent.
The Mondi Group specializes in both plastics and paper and is in a unique position to look at cellulose-PP composites in partnership with the Kompetenzzentrum Holz. Natural minerals can also be used in reinforcement and to impart other functions: additives from Kärntner Montanindustrie can help reduce shrinkage and warpage, Mr Tsalic remarks.More of these findings will be released at AMI's Polyolefin Additives 2013 conference, held from September 10-12 in Düsseldorf, Germany.
Source:http://www.adsalecprj.com/Publicity/MarketNews/lang-eng/article-67004709/Article.aspx