Panasonic has developed a soft, flexible, and stretchable polymer resin insulating film which stretches 2.5x its length and returns to its original shape. It can be folded and adapts adapts to varying free-form surfaces, so reducing existing design constraints. For example, it enables the construction of soft and stretchable electronic devices that are adaptable to various forms such as clothing and the body.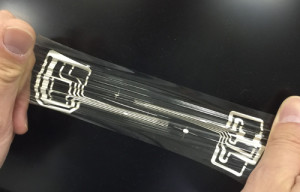 A stretchable transparent electrode material and conductive paste have also been developed. Panasonic's insulating material, made of thermosetting resin, is, both flexible and stretchable. Going beyond simple softening, Panasonic's resin design technology makes optimal use of the characteristic three-dimensional cross-linked structure of thermosetting resin. By relaxing internal stresses arising from stretch, the newly developed insulating material returns to its original shape and withstands repeated use. Devices implemented on clothing or worn on the body must be made of not only stretchable insulating materials, but also soft and stretchable conductive materials.
Using a stretchable resin as a base material, Panasonic has also developed a transparent electrode material and conductive paste that remain conductive even after repeated cycles of stretch and restore. The transparent electrode material comprises a thin conductive layer of carbon nanotubes formed on the base material of stretchable resin. The conductive paste was produced by combining the stretchable resin, used as a binder, with silver filler.
Panasonic has developed a unique resin design technology to allow the material to have both soft and rigid components. This method differs from the conventional method of adding an elastomer. This technology uses a three-dimensional cross-linked structure of thermosetting resin to relax stresses arising from stretch and restore. ITO is in wide use as transparent electrodes.
Although it withstands bending to some extent, when subjected to folding or stretch, it easily develops cracks, thereby failing to retain its conductivity. To overcome this drawback, it is necessary to provide crack-free flexibility and ensure a conductive path for retaining the material's conductivity even under stretch or deformation conditions. Panasonic has developed a technology designed to form a thin transparent conductive layer comprising conductive carbon nanotubes of an exceptionally high aspect ratio on a base material of a stretchable resin film produced with the optimal materials design for stretch and restore. Employing carbon nanotubes to form a conductive path, thereby providing compatibility between stretchability and conductivity, Panasonic has created a stretchable transparent electrode material that retains conductivity even after deformation.
Usually, copper or other metal wiring would break when its base material stretches or contracts. Due to this problem, it is not easy to use metal wiring to form complex circuits. Furthermore, metal fatigue resulting from deformation makes it difficult to achieve metal wiring that withstands repeated stretch. Panasonic has developed a technology to combine a stretchable resin as a binder with a silver filler. The result is conductive paste that retains a conductive path, hence conductivity, even after stretch and restore.
Website:                          www.plastemart.com