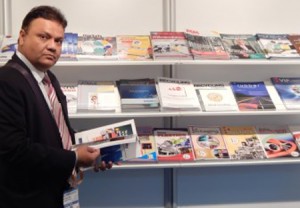 At the forthcoming Plastivision India 2013, EuroMold will host a special pavilion called IndiaMold, the organizer, All India Plastics Manufacturers' Association (AIPMA), announced.
Raju Desai, Chairman, Executive Committee, Plastivision India 2013, says the show will be coming up with IndiaMold pavilion, which will focus on prototyping, mold making, design and application development for the tooling industry.
"Companies that seek to access the Indian market are increasingly doing it through IndiaMold," said Dr.-Ing. Eberhard Döring, CEO of DEMAT GmbH, organizer of EuroMold. "Due to the number of companies that have already registered as exhibitors and others that are interested in, we can already foresee that IndiaMold Pavilion will be a great success."
According to Mr. Desai, more than 1,000 exhibitors have already registered for Plastivision India 2013, to be held from December 12-16 in Mumbai, India.
Source:  www.adsalecprj.com/Publicity/MarketNews/lang-eng/article-67009167/Article.aspx