RIYADH: Minister of Commerce and Industry Tawfiq Al-Rabiah opened Saudi Plastic and Petrochem 2016, at the Riyadh International Convention and Exhibition Center (RICEC) on Monday.
The 13th edition of the international plastics and petrochemicals trade fair, considered as the Middle East's largest specialized trade fairs in plastics, petrochemical, printing and packaging, will run until Jan. 21.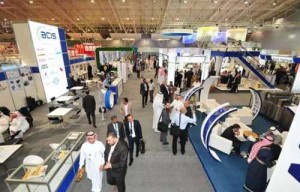 The four-day event, being held with the support of the Ministry of Commerce and Industry, showcases the latest products at 10 international pavilions, which reflect the growing interest of international companies in the Saudi market and demonstrate their confidence in the importance of plastics, petrochemicals, printing and packaging.
Above all, the fair offers an opportunity to explore the latest trends and opportunities in the vital sector for the Saudi market.
The Saudi plastics and petrochemicals sector is witnessing consistent growth over the past few years. This is evident from the larger participation this year, with the trade fair hosting more than 500 local and international exhibitors as against about 300 last year.
The number of participating countries too went up from 19 last year to 25 this year with the increase in total space, which is 15,000 sqm, according to the organizer.
Last year, the plastic and petrochemical trade fair was organized for the first time in Jeddah, and has now traveled back to the capital.
The major national participants include Saudi Basic Industries Corporation (SABIC) as the diamond partner, Saudi Polymers as the platinum partner and the Saudi Industrial Development Fund (SIDF) as an industrial partner, and the national pavilions reflect the interest of international companies in the Saudi market by demonstrating their confidence in such exhibitions.
Participants at the show include major plastics and petrochemicals companies in the Kingdom and the rest of the Gulf.
Major countries at the fair include the United States, the UK, Turkey, the UAE, Bahrain, Jordan, India, China, Egypt, Germany, France and Korea.
India has staged the largest pavilion with 40 of its companies from plastics and allied industries sector participating in this event under an exclusive India Pavilion inaugurated by Hemant Kotalwar, charge d'affaires at the Embassy of India.
The India pavilion showcases expertise in manufacturing plastic products of world class, the latest machinery and the technological advancement made in this sector, besides exhibiting a wide range of household and industrial plastic products and medical devices.
This distinct gathering with a blend of national and international companies is considered to be a huge opportunity to explore the latest market trends and services within the key areas and contribute to their progress and development in the Kingdom.
Website:                                 www.arabnews.com