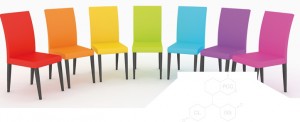 Calumet City, Ill., April 25, 2013 – PCC (Plastics Color Corporation), a leading supplier of color concentrates, compounds, additive masterbatches and other polymer technologies, has released a new research paper on antimicrobials in polymers. The paper provides a brief history of antimicrobial agents in general and explains the development and usage of antimicrobials in medical, consumer and other applications. The paper examines the application of antimicrobial plastic resins as a response to public, private and institutional demands for plastic products and product components that inhibit microbial growth.
In the U.S. alone, 1.8 million hospital-associated infections lead to 99,000 deaths each year, killing more people annually than AIDS, breast cancer and automobile accidents combined. While medical research continues to target constantly-evolving microbes including so called "super bugs," advances in resin-compatible antimicrobial additive technology have drawn the plastics industry into the germ battle on several fronts.
The new white paper, available by request on Plastics Color Corporation's website, provides an in-depth look at the various chemical and biological methods used to inhibit microbe growth, the spread of disease and the deterioration of materials. In explaining the need for antimicrobials in plastic the paper states, "The sheer ubiquity of plastics in modern society makes them a logical candidate for antimicrobial use. It would be difficult in a developed nation to go through an average day without contacting a plastic surface in your car, home, work or virtually any other public or private setting. To the extent that contact with plastic is practically unavoidable, efforts to minimize the spread of pathogens via that contact are clearly worthwhile."
The proliferation of plastic items in virtually all settings subject to human contact provides an opportunity to address many concerns by engaging microbes proactively on product surfaces where they colonize and are spread via contact. Using select antimicrobial formulations matched to appropriate resins, the plastics industry is producing a wide variety of antimicrobial polymers for use in medical, industrial, commercial, marine and home applications.
For more information about the white paper please contact Timothy Workman at tworkman@plasticscolor.com