In latest news from the field of plastic industry the VDMA (Association of German Plastics and Rubber Machinery) there could be a slight slowdown in the overall global sales of plastic. According to reports from the sources the downturn may hit up-to 3%. It is important to underline here that initially the association forecasted a sharp rise up-to 6% and this is the revision of the same.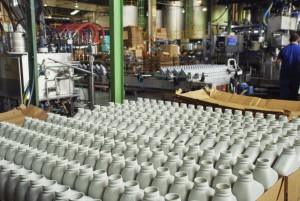 According to the reports the overall sales of plastic and rubber materials in the year of 2014 was ($9.4 billion) and the same is expected to be followed in 2015 by 4 percent growth to 7.3 billion euros ($9.8 billion).
The forecast was presented at VDMA's annual member conference in Dusseldorf on June 13 by the chairman of the association Ulrich Reifenhäuser.
While detailing the same the chairman said "The very strong growth in Germany has surprised me personally," Reifenhäuser said. "The Eurozone growth represents recovery from a very low level, but there is still 'steam' in it."
He also added that if we compare the volume of incoming order in January-April 2014 from 2013 there has been a sharp growth of 6% which can be attributed to the strong 19% growth from Germany and other parts of the European Union. The report highlights that while the period shows a strong growth in the Germany while the same from other parts of the Europe was poor which merely 3% is.
The chairman presented a curve of turnover and order intake for the period of 2005-2014 which shows much less volatility since 2011. With this he also added that the market can witness "a really stable and successful phase" for the industry.
In the report the Chairman said much of the slowdown could be attributed to low performance of Italian plastic industry that has failed to provide compensation and is losing its ground gradually. Another event that could be seen as important here is the fall in Japan's share which is declining from 6.0% to 4.4%. He termed this event dramatic and said there is a need of immediate action on these ground otherwise they may lose a huge chunk of their profit and share. While detailing he also said that despite all these downturns there is hope in the Japanese machinery section as it is still doing better than other segments of plastic industry.
The report also says that Due to the importance of the domestic market for Chinese producers, Germany held its position as the top exporting country in 2013, with a 24.5% share of €18.9bn total world exports (down 2.5% from €19.4bn in 2012). China was second with 12.3%, followed by Japan 9.9%, Italy 9.1% and the US 5.7%, having lost some share compared with 6.1% in 2012.