Bangladesh's exports earnings from the plastic sector dropped 14% to $51.73m in the first seven months of this fiscal year.
Drastic fall in the raw materials' prices has been blamed for bleak performance by the country's emerging industry.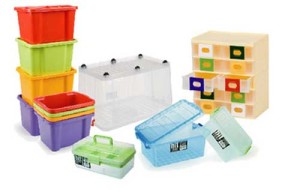 According to the Export Promotion Bureau (EPB) latest data, in July-January period of FY2015-16, the country earned $51.73m from the plastic sector, which was over 14% less compared to $60.20m a year ago.
The figure is 22.27% less against the target of $66.55m set for the period.
The sector people said the decrease of prices of raw materials was triggered by the economic slowdown in the export destination countries, especially in the European Union countries. And this caused downward trend in the export of the products.
The plastic sector earned $100.5m with a 17.35% growth in the last fiscal year, according to the EPB data.
"The fall of raw materials prices has triggered the price drop of the plastic goods in the global markets, which caused downward trend in the export earnings by the sector," Jashim Uddin, president of Bangladesh Plastic Goods Manufacturers and Exporters Association (BPGMEA), told the Dhaka Tribune.
Though the export earnings have shown negative growth, the growth figure is still higher, which indicates the unit price fall, he said.
Plastic goods are bi-products of petroleum products, which have witnessed 30%-40% price fall. As a result, the price of raw materials of plastic goods have seen a 40%-45% decline, Jasim added.
On the other hand, export value of the sector declined due to slowdown in the European Union economies as they are the major buyers of Bangladeshi plastic products, Jasim Uddin said.
However, the sector people are hopeful about the industry's revival as they are now exporting household products and furniture instead of traditional poly bag, woven sack, PVC bag and waste plastic.
In the current fiscal year, Bangladesh's plastic products  entered 22 new markets including Angola, Azerbaijan, Switzerland, Chile, Colombia, Cyprus, Denmark, Ethiopia, Finland, Hungary, Lebanon, Liberia, Madagascar, Mongolia, Nigeria, Panama, Papua New Guinea, Romania, Sierra Leone, Uganda, Uzbekistan and Yemen with its high quality products at a reasonable price, exporters said.
Website:                                        www.dhakatribune.com