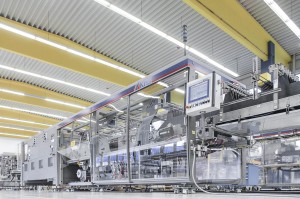 With the Innopack Kisters Basic packaging machine now in its new, optimized form, companies in the beverage, food, and non-food sectors who opt for a shrink, tray, or pad shrink packer in this series are set to gain from a whole range of added bonuses. The buzz words here are: greater ease of operation and more flexibility, less energy consumption and lower costs, and increased machine availability.
The many benefits are as follows.
In the Basic series, identical servo motors with integrated servo controllers are now used for all function units. This reduces and eases spare part stockkeeping considerably. The individual servo motors are linked to one another through a bus system, with the result that there are now fewer cable connections to the switch cabinet.
Another major advantage of the optimized machinery is the cubic design of the machine frame. This means greater ease of operation, as there is now more space within the machine. The see-through sliding doors constructed according to hygienic design specifications provide an extremely good view inside the machine even during production.
A new film cutting and feed system in the film wrapping station has also been designed for specific savings in film. Even films just 25 µm thick are perfectly processed. The servo-driven film cutter ensures much more precise film cutting with less wear.
There are also many new features in the shrink tunnel area. Optimizing the heating chamber and introducing new ventilators that work extremely efficiently have resulted in an improved flow principle that permits energy savings of up to 20%. An energy-saving package can also be incorporated into the shrink tunnel concept that enables consumption to be cut by a further 20% maximum.
This package includes a roller shutter system at the infeed and discharge openings of the shrink tunnel and a standby function. Roller shutters that close automatically bridge downtimes and prevent thermal energy from escaping. Another optional module is an automatic cleaning system for conveyor chains in the shrink tunnel area. Customers can also choose between electric or gas heating for the shrink tunnel.
Last but not least, the machine's increased flexibility deserves a special mention.  In order to cope with frequently changing packaging specifications, the shrink packer can now be converted into a tray packer or pad shrink packer, for example. Adding extra modules to the packaging concept, such as a leaflet inserter or perforation station, is also possible.
As at present, KHS' Innopack Kisters Basic packaging machines will continue to be suitable for the low-capacity range of 30 to 70 cycles per minute. The individual containers may range in diameter from 55 to 110 millimeters and in height from 110 to 350 millimeters. For product group formations, lengths of between 110 and 270 mm and widths from 200 to 540 mm are possible. With a maximum of three lanes, Basic packaging technology is devised for a wide variety of packaging formats.