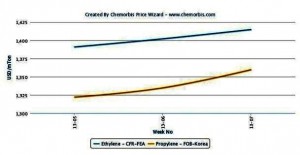 Spot olefin prices followed different paths in major markets over the past week during Chinese holidays, as per the pricing service of ChemOrbis. Propylene and ethylene costs were either steady or posted slight gains in the European and Asian markets with respect to the prior week on the strength of rising naphtha costs. However, they declined in the US market which was attributed to lower demand.
In Europe, spot propylene and ethylene markets recorded weekly increases between €5-15/ton on FD NWE basis in tandem with bullish naphtha costs while supply constraints stemming from cracker shutdowns supported the rally. Triggered by spot naphtha prices, which soared $15/ton week over week and $65/ton since February 1 to the highest level for almost a year, spot olefin markets now represent €15-20/ton increases with respect to the beginning of the month.
Regarding the supply side, Shell and BASF are already known to be planning maintenance at their crackers, with ethylene capacities of 940,000 tons/year and 1.08 million tons/year, in the Netherlands and Belgium, respectively in March and April. Naphthachimie delayed the restart of its Lavera cracker from end January to the second half of March. The 745,000 tons/year cracker has been down since late last year due to a fire. In addition to these, Versalis reportedly plans to shut its 380,000 tons/year cracker by the end this week for a repair, market sources in the region said.
In the meantime, Repsol will reportedly restart its 410,000 tons/year cracker in Portugal in March. The company had shut the cracker in the last quarter of 2012 given poor demand, sources reminded.
In Asia, spot propylene prices gained $15/ton on FOB South Korea basis, while they are up $45/ton so far this month. The ethylene market held steady on CFR Northeast Asia basis on the week although they stand $20/ton above early February levels. The main driver behind higher offers is climbing naphtha costs that soared $40/ton over the week to indicate a cumulative gain of $60/ton from early February. Demand was considered stagnant though as markets including South Korea, Taiwan and Japan had been on holiday for a couple of days in addition to one-week long holidays in China.
In the US, prices for both products recorded drops in contrast to Europe and Asia, mainly due to buyers reportedly giving lower bids due to weak demand, as per ChemOrbis. On a weekly basis, larger decreases were observed for propylene with spot offers plunging 7 cents/lb ($160/ton) on DLVD USG basis. The latest figures indicated a 7.75 cents/lb ($170/ton) decrease when compared to the beginning of February.  Regarding ethylene, spot values edged down by 0.75 cent/lb ($17/ton) on FD USG basis bringing the total loss to 2.5 cents/lb ($155/ton) from early this month.  Nonetheless, February propylene contracts settled up 6 cents/lb ($132/ton) month over month while ethylene settlements are pending.
Looking at the supply side, Westlake Chemical was anticipated to complete an expansion at its Petro-2 cracker in Louisiana by late this month or early next month. Plus, Huntsman was reportedly about to end its maintenance shutdown at its 118,000 tons/year cracker in Texas. However, companies including BASF, Flint Hills, Dow Chemical and Enterprise are carrying out maintenance at their crackers during February.