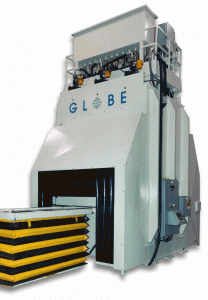 There's a new manufacturer of plastics processing equipment in the United States, but don't bother looking for it at any upcoming trade shows. Globe Machine Manufacturing Co., which has been in business since 1917, is now designing and building carbon composite forming presses in a 140,000-square-foot factory on the Tacoma, WA tideflats.
The company has shipped five presses to a plant currently being ramped up by Plasan Carbon Composites in Walker, MI, and has shipped two other presses to Plasan's R&D center in Wixom, MI. The equipment was designed in collaboration with Plasan, which is owned by Kibbutz Sasa in northern Israel.
In an interview with PlasticsToday, Calvin Bamford, president of Globe and the grandson of the company's founder, said he expects demand for its highly specialized, and unique, presses to grow rapidly as demand increases from automakers and other manufacturers anxious to cut weight and improve corrosion resistance with carbon-reinforced plastic (CFRP) parts.
"We think it will become 30% of our business," Bamford said. The company's main focus is the production of equipment used to produce wood composites, plywood and other types of wood industry products. Globe was handpicked to become the mechanical development partner for Plasan's first-in-the-world out-of-autoclave approach to produce carbon composites that dramatically cuts processing time and eliminates many costs associated with autoclaves.
"We decided not to approach the mainline producers of plastics equipment like Krauss-Maffei or Ube and went directly to Globe because of their long experience in producing wood composite machinery," said Gary Lownsdale, chief technology officer of Plasan Carbon Composites and the architect of the new process.
Lownsdale said he met with Bamford and Globe engineers to outline the process requirements for the new equipment. "They got it immediately," said Lownsdale, as he snapped his fingers in a discussion with PlasticsToday. In fact, Globe was able to ship the first machine to Plasan's R&D center for testing less than six months after that initial meeting.
For Bamford, it was serendipity.
"We had downtime because of the recession in the housing market," he said. Bamford threw significant resources into development of the machine, which cuts processing time for a carbon composite part from more than 90 minutes to the 17- to 19-minute range. Further process improvements are expected to drop cycle times further.
Bamford said that the pressure and temperature profiles required for Plasan's new process are comparable to the requirements in wood composite processing. The hard part was what to give to Bamford as marching orders. "When we realized we had to replace the autoclave, we went to the resin companies and asked them to describe to us what happens to their resins inside the autoclave," said Lownsdale. "They didn't know."
So Lownsdale and James E. Staargaard, president of Plasan Carbon Composites, went to the officers of their parent company and asked for $1million to equip an R&D lab. Their jaws dropped, but they also realized the potential of carbon composites. "We had to reverse engineer what happens in an autoclave, and that was really hard because I hated thermodynamics in college," says Lownsdale.
And college was a while ago for Lownsdale, who worked in a pioneering carbon composites lab at Union Carbide in the 1960s. The new plant in Walker is in an area of Michigan devastated by the recession and loss of manufacturing jobs. Staargaard said that the new plant will employ about 200 by next summer and will be pumping out parts for an automotive program expected to be identified in January.
Lownsdale is excited about the potential not only for additional manufacturers using the Plasan process, but for improvements in resin and fiber chemistry that will reduce costs and cycle times. "I've tried to retire a couple of times already, but I'm not going to try again." Lownsdale will receive the Innovation Lifetime Achievement Awards for 2012 from the Society of Plastics Engineers' Automotive Division awards banquet Nov. 7.
SOURCE : http://www.plasticstoday.com/articles/old-tacoma-company-now-building-plastics-equipment0920201201