OCTAL has continually expanded their current logistics program to reassure their customers that they stand out as a leader in the plastics market by adapting and adopting their product from production to delivery. Since competition is gaining speed in the plastics industry, benefiting their customers with such programs like DDP (Delivery Duty Paid) and "Palletless Shipping" will show OCTAL's forward thinking process as a plastics manufacture with global goals.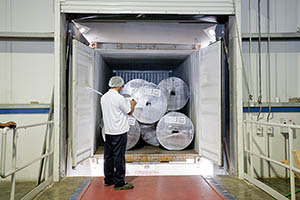 Customers are always looking for a manufacture to go the extra mile to show how dedicated they are to one of the biggest global industries, Plastics. Listening to current US customers, shipping has only been changing for the better so OCTAL has looked at their logistics program as a whole to show their leadership in the market. Showing the ease of support and the trust that comes along with OCTAL, payment for their DPET™ sheet comes when the rolls are delivered not just to the closest port, but directly to the customers door step. This gives the customer additional comfort when purchasing from OCTAL.
now offers a variety of custom shipping options for DPET™ Sheet. One of the best options in shipping DPET™ sheet from OCTAL is shipping without the usual pallets.
This style of shipping OCTAL's DPET™ sheet is called 'Palletless Shipping'. In Palletless Shipping, strategically placed rolls are in containers without the use of pallets. Palletless configurations have proven to eliminate damage to rolls even in stormy conditions by maintaining an even weight distribution, while providing a more efficient shipping system. Instead of using pallets, rolls unloaded from shipping crates can be placed onto plastic pallets owned by and kept within the warehouse, reducing the chance of contamination of the manufacturing facility from outside dust or debris.
This seemingly modest improvement significantly enhances customer service by saving on packaging costs and reducing the risk of product damage in transit. By loading containers with more products, OCTAL can ensure they weigh up to the maximum allowed under the road haulage rules of the customers' export markets, which translates into additional cost savings and improved reliability for customers.www.octal.com