Through the Support of a Surging Plastics Industry, NPE2015 Already Surpasses the Largest Previous NPE in Exhibit Space, and More Will Be Added by Opening Day
WASHINGTON, DC, U.S.A., January 26, 2015: It's official: NPE2015 has surpassed the previous NPE record for exhibit space, it was announced today by SPI: The Plastics Industry Trade Association, which produces the triennial NPE.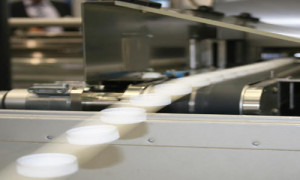 Based on the number of exhibitors thus far, booths will fill more than 1,041,000 net sq.ft. (106,000 sq.m) of exhibit space, the amount used at NPE2000, the largest NPE on the books until now. And with more companies anticipated, SPI expects an additional 10,000 sq. ft. (930 sq.m) to be occupied before the show floor opens on March 23, 2015.
Exhibiting companies cite the success of the previous NPE in 2012 and the ongoing surge of the plastics industry as reasons for their strong investment in NPE2015. For equipment companies this has resulted in larger booths in which to display and operate more machines. One such company, Milacron Inc., will have 24,600 sq.ft (2,285 sq. m) of space, constituting the largest booth in NPE history. Overall, more than 600 companies will have equipment at their booths and over 400 will be operating systems. Often their exhibits will feature multiple machines—some of them completely integrated manufacturing cells—running simultaneously.
"With so many exhibitors operating equipment, the show floor will be a dynamic panorama of manufacturing in action," said Gene Sanders, SPI's senior vice president of trade shows and conferences. "Visitors will encounter a host of opportunities to see demonstrations of the latest technologies and materials up close and to interact with equipment and product experts. It will offer buyers the rare opportunity to test before they invest."
In a recent SPI survey of equipment companies with the 50 largest booths, some respondents provided glimpses of what buyers can expect to see at their exhibit:
● Absolute HAITIAN will have a 25% larger booth and more machines on display than at NPE2012, said Glenn Frohring, president. Four injection molding machines will be in operation, including a high-speed all-electric unit for cap and closure production.
● Branson Ultrasonic will have at least 21 fully-operating materials assembly stations for a cross section of end markets, incorporating vibration, ultrasonic, laser, infrared, and spin welders. "Due to Branson's success at NPE2012, we made a commitment to expand on our footprint at NPE2015 to introduce the latest technologies to the world stage," said Jeff Frantz, North American director of marketing and product development.
● Engel will have one more molding cell than at NPE2012 and operate eight in all, showing solutions for automotive, medical, packaging, teletronics, and technical molding applications. One of the systems on exhibit will be for molding a geometrically optimized, stress-resistant brake pedal based on a new process developed in partnership with ZF-Friedrichshafen. Using a vertical insert molding machine with a multi-axis industrial robot and infrared oven, a continuous-fiber-reinforced thermoplastic semi-finished product (known as thermoplastic fabric) will be heated, preformed in a mold and immediately overmolded with polyamide. The system produces ready-to-fit components; no cutting is necessary.
● KraussMaffei Group has taken a bigger booth than in 2012 to demonstrate a broader range of innovations. Its KraussMaffei brand will include a process combining injection molding and thermoforming of composite sheets. At the booth, the company will produce glass-reinforced nylon airbag housings in cycle times of 45 seconds. Showcasing the Netstal brand will be a molding line producing 44-oz stadium cups and another producing 16-oz containers with cycles of 5.5 seconds on a 4 + 4 cavity mold.
● Sumitomo (SHI) Demag will demonstrate nine machines, including one with which the company will attempt to beat the world speed record for production of water bottle caps. The machine will be running a 96-cavity hot runner mold. "Each hour, the machine will be producing over 180,000 lightweight 1.3-gram HDPE water bottle caps with tamper-evident band molded by mechanical slides," said vice president and COO John F. Martich III. "The sub-two-second cycle, the waterfall of 96 caps out of the mold, and the caps literally flying by on the IMDvista vision inspection system— it will definitely draw a crowd."
● UBE Machinery will show more equipment at NPE2015 due to the "great attendance and excellent response to NPE2012," said David Bernardi, senior sales and marketing manager. Shown in operation, dry-cycling the clamp in 4 seconds, will be a 1,000-ton, fully servo hydraulic molding machine, equipped with a SmartHeat barrel from Nordson Xaloy, that offers 70% savings in electricity.
● Wittmann Battenfeld has expanded its total show footprint by 10% over NPE2012, said David Preusse, president. Shown in operation will be fully integrated, turnkey injection molding cells. Also new will be a smartphone app that enables molders to monitor the status of all of their production cells and robots. "Most NPE2012 attendees remember Wittmann Battenfeld for out 'Basketballer Robots,' as still seen on our You Tube channel," added Mr. Preusse. "This March there will be a no less spectacular and attention-grabbing event from our USA team!"
● Yushin America will have about 30% more space than in 2012 and double the number of injection molding machine, said Ronald Bryant, equipment sales manager. "Attendees have requested more running cells versus static displays, so we have increased the overall number of robots operated by partner OEMs throughout the West Hall."
Website: www.npe.org