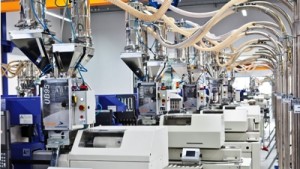 In October 2012, another line of ULTRABLEND 95 batch dosing and mixing systems were installed at the headquarters of Aero Pump GmbH, in Hochheim in the German state of Hesse. This puts the number of high precision gravimetric units to more than 50 systems and completes the complete refurbishment of the raw materials handling for the injection moulding machines at the Aero Pump manufacturing facilities.
Aero Pump – a successful family-owned company founded in 1976 – is one of the leading international producers of pharmaceutical application systems. "Our company's history began with one innovative product. We developed our first pump system without propellant gas in 1976", company founder Egon Schwab explains while talking about the success of the Aero Pump brand (www.aeropump.de). Annually, the company supplies more than 140 million dosing and atomiser spray pumps for nasal, throat and ear sprays, as well as eye-drop dispensers worldwide.
The goal was to fulfil the highest quality standards by meeting the demands for uncompromising dosing of plastic materials and ease of equipment use while at the same time achieving full reproducibility. These requirements stood at the top of the list during negotiations in 2001 in which details concerning the entire centrally controlled raw material supply system with origin/destination allocation and the first set of ULTRABLEND ancillary equipment were discussed.
The excellent performance of these gravimetric batch dosing and mixing systems have contributed towards Aero Pump's decision to install a total of 48 units of ULTRABLEND equipment by 2011, and to order further lines from motan-colortronic in 2012. Already proven in pharmaceutical and medical areas, the electro-polished stainless steel housed ULTRABLEND 95 systems are used for gravimetric dosing and mixing of four granular plastic components: PE, PP & POM as virgin materials and regrind, plus masterbatches.
They are particularly suited for applications involving frequent changes of material. The dosing slide gate and hopper form one unit, so that no material can be spilled when dismantling the equipment. As the mixing chamber is hemispherical, it does not give rise to dead mixing zones. Maximum throughput performance with two components amounts to 260 kg per hour. In terms of dosing precision, the units run within extremely tight tolerance bands – this high accuracy is an essential feature for pharmaceutical primary packaging.
A UB "Touch" microprocessor control is used with the ULTRABLEND ancillary equipment. This has a 5.7″ LCD colour display that offers intuitive menu-based operation via the touch panel. Computer-supported communication with motan-colortronic ancillary equipment – connected via the network to the control centre – takes place in real time and in clear text for the status of all operating conditions. The control system has a database with capability for storage of more than 200 recipes "The quality and performance of the material flow has a noticeable effect on the quality and operation of our dosing and atomiser pumps, not to mention efficient manufacturing in accordance with GMP (Good Manufacturing Practice) guidelines.
The new ULTRABLEND 95 dosing and mixing systems have helped us to achieve our targets to improve plastics processing", confirms Stefan Hüser, plant manager at Aero Pump.
The motan Group
The motan Group, with its headquarters in Konstanz on Lake Constance in Germany, was founded in 1947. As the leading provider of sustainable materials handling, the company is active in injection moulding, blow moulding, extrusion and compounding, in-line and chemicals. Part of the application-orientated product spectrum are innovative modular systems solutions for the storage, drying and crystallisation, for the conveying, dosing and mixing for plastics manufacturing and processing industries.
Manufacture takes place at various production locations in Germany, India and China. motan distributes its products and systems solutions via its regional motan-colortronic centers. Currently, more than 500 employees contribute to an annual turnover of approximately 100 million Euros. As a result of its network and its many years of experience, motan offers its customers what they actually require: solutions with genuine added value.