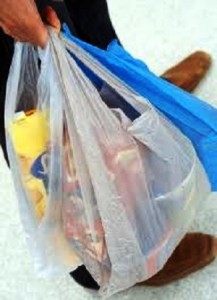 BELFAST : Retailers in Northern Ireland will be charging at least 5 pence on single-use paper and plastic carrier bags. Northern Ireland has introduced the charging system effective today which means that the customers will have to pay 5 pence for each bag taken out. The rule is applicable for bags made out of paper, plastic, starch and other natural materials. However, the levy is not applicable to reusable bags and certain small plastic and paper bags.
It is estimated that Northern Ireland uses nearly 30,000 carrier bags every hour and around 250 million every year. The move is aimed to reduce the usage by at least 80%. The retailers will have to deposit the proceeds of the levy with the Department of Environment in Northern Ireland each quarter. The proceeds thus collected will be used to help business, charities, schools and others to improve the environment and fight climatic changes.
The Environment Ministry has proposed several initiatives including creation of a river restoration fund to improve water quality, supporting of environmental groups in the region to produce economic and social benefits to the community, encouraging the efforts to prevent waste and promoting the recycling of plastic waste. The environmental effects caused by carrier bags are dangerous. Studies showed that the plastic waste has become a major threat to the marine environment.
Wales, in 2011 had introduced levy on carrier bags. The success of the scheme has forced Northern Irish Environment Ministry to follow in Wale's footsteps. In fact a few months upon implementation of the scheme, carrier bags disappeared from a large number of retail stores in Wales. Reports indicate that Scotland is also seriously considering imposition of charges on carrier bags or ban on carrier bags, leaving England the only region not to do so.
Source :www.scrapmonster.com/news/northern-ireland-launches-five-pence-charging-scheme-on-single-use-paper-and-plastic-bags/1/8584