The demand for resins in the North American reinforced plastics industry is set for good growth between 2013 and 2018 to reach an estimated US$4.6 billion in 2018, according to Composite Insights.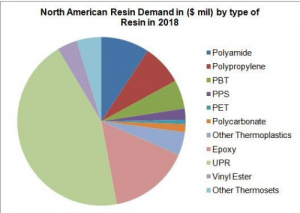 The North American reinforced plastics industry is expected to be fully recovered from the recession in next three years, reports market research firm Composite Insights Pvt Ltd of Hyderabad, India. (See US composites market on the up.)
The Composite Insights report, Opportunities for Resins in North American Reinforced Plastics Industry: 2013-2018, predicts that:
demand for thermoplastic resins will grow at an above average rate through 2018 as a result of their high performance, competitive cost, and processing advantages over thermoset resins;
thermoset resin demand will be driven by unsaturated polyester resin through 2018, reflecting renewed economic growth and the introduction of improved resins and processing techniques; and

epoxy resin demand will grow at much slower pace because of a slowdown in the wind energy industry (see Global wind turbine installations set to fall 5% in 2013).
2007-2012
Between 2007 and 2012 the demand for thermoset resins in the North American reinforced plastics industry declined more than 3% per year in terms of volume shipments. Demand for thermoplastic resins posted a little growth. Except for the aerospace and wind energy sectors, all other markets saw a decline in resin consumption.
However the study reports that in 2012, overall resin demand in North America experienced significant growth, with increased demand from the wind energy, transportation, marine and construction segments.
In 2012, demand for epoxy and polypropylene resins experienced double digit growth, while demand for unsaturated polyester resin saw below average growth.
Source: http://www.reinforcedplastics.com/view/32867/north-american-resins-market-to-reach-4-6-billion-in-2018-composite-insights/