New food containers by True Source Products (TSP), made with Eastman Tritan copolyester, meet consumer demands for containers that are durable and free of bisphenol A (BPA).
TSP is an American company specializing in food storage. The company's newest container line features Tritan, a new-generation copolyester that is dishwasher durable, tough and has crystal-clear clarity.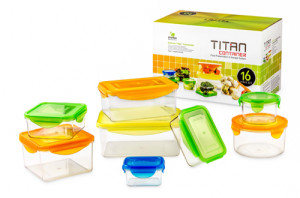 TSP's new TITAN line made with Tritan includes multiple shapes and sizes, including rectangle, square and round containers, as well as a sixteen piece assorted box set.
Before TSP's introduction to the Eastman Tritan copolyester material, its containers were made of glass and prone to breakage. In the search for a material that could provide a safe, durable alternative for customers, TSP decided Tritan was suitable for the application.
"Our customers spoke and we listened, returning with a better product," said Steve Lim, Vice President, TSP. "When looking to update our line of food storage containers, we sought a material that was made in the US, light and tough. Eastman Tritan copolyester was our answer."
Beyond being BPA-free, Eastman Tritan copolyester allowed TSP containers to be freezer, heat and stain resistant and free of plastic odor and taste, all while preserving freshness with an airtight lid.
"Companies like True Source Products are listening to their customers and taking the initiative, adjusting with changing demands," said Marty Boykin, Ph.D., Global Business Manager, Eastman Chemical Company. "Through our collaboration, we were able to support True Source Products' forward-thinking with a material that took its existing design and turned it into a BPA-free, durable option to meet customer demands."
Website:   www.adsalecprj.com