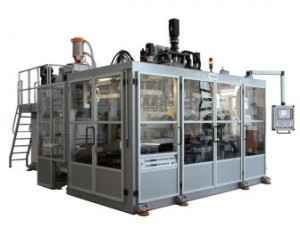 Techne Graham Packaging from Italy has developed a new all electric extrusion and blow molding (EBM) machine ADVT for medium production capacities. Two versions, single or double shuttle, are available. The new machine is built on the efficient Advance series, aiming to achieve low consumption, durable and user friendly, explains Techne.
The machine allows a safe and easy access to any area for ordinary maintenance, head cleaning and quick tooling changing. Its simple use, thanks to an intuitive interface on a touch screen industrial PC, makes it an easy machine to be operated. The absence of any hydraulic systems assures a clean production environment, a reduction of the overall noise and lower cooling needs of the machine.
It eliminates the problem of draining the used oil, reducing the ecologic impact on the ambient and guarantees workers' safety. According to Techne, low consumption is assured thanks to several systems which have been tested and optimized for five years on the Advance series, such as kinetic energy recovery, mold closing system, can bus wiring, etc. The result is a reduction of the consumption of the machine of 35% compared to hydraulic units.
Techne states that the high quality components on ADVT, for example, zero backlash reducer on mold closing system, absolute encoders and brushless actuators, as well as smart automatic lubrication make it nearly needless for maintenance and warrantees a long lasting life to the machine on high levels of efficiency. ADVT will be presented in a showroom in Bologna, Italy from September 10-20.
SOURCE : http://www.adsalecprj.com/Publicity/MarketNews/lang-eng/article-126519/Article.aspx