Greiner Packaging International and a renowned closure manufacturer modify the packaging of Breitsamer honey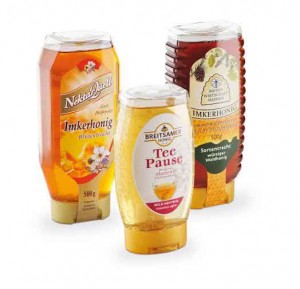 A better base, a design for easier handling, and drip-free dispensing: together with Breitsamer + Ulrich and a recognized closure manufacturer, Greiner Packaging International has modified the packaging. Taking the environment into account, the total packaging weight has also been reduced. Breitsamer honey products in the new PET bottles containing 350 or 500 grams have been in stores since January 2013.
Kremsmünster (Austria), 19 February 2014 – Breitsamer + Ulrich GmbH & Co KG from Munich are among the leading honey bottlers in Europe. Their products combine tradition and quality and are sold in glass as well as in plastic packaging.
Efficient Production with Kavoblow
Greiner Packaging International produces the new honey lovers bottles for Breitsamer from PET, using the stretch blow molding process. "We use our exclusive kavoblow technology for this. It facilitates a highly efficient implementation of individual designs and combines flexibility with productivity. It is therefore particularly ideal for innovative bottles and containers for the food industry", explains Günter Ausserwöger, Head of the Kavo Division at Greiner Packaging. The look and handling of the bottle were improved. And thanks to the new base design, the packaging is more stable during filling.
Hygienic, clean, and easier to dispense
Honey in plastic bottles has some basic advantages in terms of convenience for daily consumption: It provides the consumer with hygienic and clean handling, as well as precise dispensing without dripping. The new dose cap with membrane plays an important role here. It is equipped with an integrated, tear-off tamper-proof band and is made of polypropylene. Combined with a highly transparent PET bottle, the system fulfills the highest demands for precise dispensing of viscous products.
Corporate Data
Greiner Packaging International is one of the leading enterprises in the European packaging industry. In 2012, the enterprise achieved annual sales of EUR 472.9 million (EUR 488 million, including joint ventures) – more than one third of the Greiner Group's total sales. Greiner Packaging International has 3,236 employees at 34 locations.
For more information online:
Greiner Packaging International: http://www.greiner-gpi.com