Detmold/Germany, September 2013 With its Uni tec® and MTI Eco® plus-line series featured at K 2013, MTI Mischtechnik (www.mti-mixer.de) once again presents a portfolio of energy saving, highly efficient systems for demanding mixing tasks in the plastics processing industry. The machines are complemented by a fully redesigned Vent tec® aspiration system which removes moisture from dry blends during mixing and is noted for its exceptional operating reliability and uniformly high performance even under most difficult production conditions.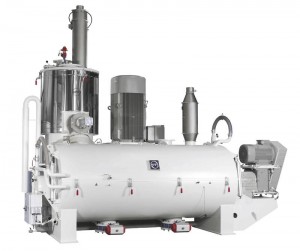 Designed as vertical-type systems, MTI's Uni tec® Universal Mixers are suitable for the preparation of plastics across a very broad application range. This starts with the homogenisation of bulk stock of widely differing characteristics and extends through complex process technology tasks required, e.g. in drying and pelletising specific materials.
Thus, a single mixer may often combine multiple process steps in a cost-efficient manner where different equipment set conditions had to be employed before. A wealth of optional features enables MTI to realise application-focused custom configurations which are perfectly matched to their specific operating environment at the company's own R&D Centre beforehand.
MTI's Eco® plus-line is the result of consistent upgrading of the MTI Eco®-line heating/cooling mixer combinations launched at K 2010 which have since gained renown for their dependability and high performance in diverse practical settings thanks to requirement-based configurations and their elevated cost- efficiency.
With the portfolio expansion now available, the demand for double-batch machines capable of mixing PVC-U for the volume production of products such as, e.g., pipes or profiles is fully met. Given their unsurpassed mixing characteristics and particularly good efficiency, these systems can deliver throughputs of well over 10 tonnes/h, allowing investment payback times to be minimised.
Vent tec® is a latest-generation mixer aspiration system developed by MTI with a special emphasis on improved dehumidification performance under constant production conditions. The system adapts automatically to the different process phases which constitute the mixing operation. It can be employed with only minimal adaptations in mixers of almost any design and in virtually all ATEX ambient situations.
MIT's General Manager, Ulrich Schär, comments: "The continuous improvement of our equipment's efficiency, achieved by packing multiple functions into one system, makes for increasingly complex process workflows. As a result, we can now mix, homogenise and disperse raw materials of the most diverse properties, preparing them for a surface treatment and drying step in the same mixing system afterwards. The users of our sophisticated, optimised machines will thus save energy and time. MTI is determined to keep on focusing its innovative force on the development of machinery which cuts costs while addressing individual requirements at the same time."
MTI Mischtechnik International GmbH, established in 1975, is an internationally operating manufacturer of mixing and processing equipment for the plastics processing and chemical industry. With a staff of around 55 working at its headquarters site in Detmold, Germany, this family-owned company manufactures around 50 mixer systems of diverse designs each year. MTI Mischtechnik also operates a U.S. branch in Salina, Kansas, and is represented by a Tokyo-based license partner in Japan.
Read more: www.konsens.de