Emmi begins a new chapter in its Caffè-Latte success story – with Greiner Packaging International as their tried-and-true packaging partner.
The classic 230-ml packaging family of Emmi Caffè Latte has grown: In Switzerland, the popular milk mix drink has additionally been available in cups holding 370ml since March. Due to its size, the new package is called "Mister Big" and in terms of its looks and functionality has been inspired by its smaller model.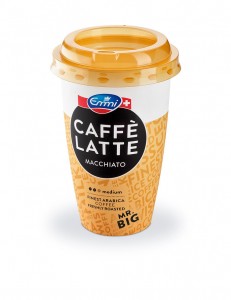 Kremsmünster, 23 July 2013 – Caffè Latte is made by Emmi – and it is a standout on the shelves. The product's uniqueness is reflected through the special convex shape of its packaging that is based on the design of original Italian Caffè-Latte glasses. This feature distinguishes its new 370ml cup, as well. "One of the specific challenges during the implementation of the packaging project was to transfer the excellent properties of the existing tried-and-true packaging, one-to-one, to a larger volume, with its looks and functionality equally concerned," said Jens Krause, Sales Director at Greiner Packaging in Diepoldsau.
Special touch sensation, tight lid
The new packaging is made using injection molding technology, and it is decorated with semi-gloss sleeves that create a pleasing touch sensation. Designing the lid was a challenging task as it has to satisfy demanding tightness requirements. As a pre-requisite the cup had to be held horizontally five times within ten seconds and verified for tightness. "We solved this critical task using a dipping sealing lid and a double-snap function," revealed Krause.
Efficient, synchronized cooperation
For many years, Greiner Packaging International has been supporting Emmi as its Caffè-Latte packaging partner. Their close and thorough cooperation aims to assure consistently high quality. The development of this new cup in particular required fast implementation. Greiner Packaging International managed to fulfill this demand, and in doing so displayed a basic strength of the corporation: The entire packaging solution (cup and lid) is delivered from a single source and therefore, the customer benefits from relying on a single contact partner at every stage of the project.
Emmi Caffè Latte: an unprecedented success story
In March 2004, Emmi, the largest milk processing plant in Switzerland, began its Caffè-Latte concept – and it became the most successful product launch in company history. At present, Caffè Latte is being distributed in 17 countries and there are seven flavor varieties available on the market: Caramel New York Edition, Cappuccino, Vanilla, Espresso, Espresso Zero, Macchiato and Macchiato Light.
Corporate Data
Greiner Packaging International is one of the leading companies in the European packaging industry. In 2012, the company achieved annual sales of EUR 472.9 million (EUR 488 million including Joint Ventures) – more than one-third of the total Greiner Group sales. Greiner Packaging International has a workforce of 3,236 employees throughout 34 locations.
For more information online, visit: Greiner Packaging International:www.greiner-gpi.com