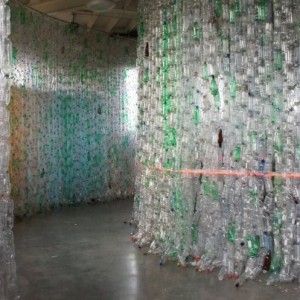 State fairs are known for insane food creations on a stick, rides that feel like they might fall apart, musical acts, auto shows, petting zoos, the list goes on and on. However, the Minnesota Pollution Control Agency wants to make sure those attending the state fair receive a lesson in recycling.
Presented by the Minnesota State Fair and the Minnesota Pollution Control Agency (MPCA), the Eco Experience at the fair brings together organizations, ideas, and hands-on activities to show what people can do at home to help the environment.
This year the Exo Experience features a 30-ft-long and 15-ft high tunnel of discarded plastic bottles that comprises the new Bottle Buyology exhibit. The purpose of the exhibit is to give people a wake up call about the amount of waste that is produced.
"This tunnel represents just 5 minutes of [bottle] generation in Minnesota," Wayne Gjerde, who manages the Minnesota Pollution Control Agency's (MPCA) recycling division, told the Minneapolis Star Tribune. "When people walk up to it, they say, 'Holy cow! That's disgusting.'"
About 46 plastic bottles are sold in Minnesota every second, with 2760 every minute. According to the Container Recycling Institute, Minnesotans generate nearly 1.5 billion plastic bottles a year. "About 75% percent of those bottles are carelessly thrown away," the MPCA stated in a news release. "We need to recycle more!"
The MPCA estimates Minnesotans throw away 1.3 million tons of recyclable material (paper, bottles, cans, etc.) every year with a value of $312 million. It costs Minnesotans an additional $200 million to throw this material away. The MPCA believes residents can actually help the economy by recycling more.
Approximately 37,000 jobs in Minnesota are directly and indirectly supported by the recycling industry. On an annual basis, these jobs pay an estimated $1.96 billion in wages and add nearly $8.5 billion to Minnesota's economy. The MPCA status report indicates that the agency wants more Minnesotans to put bottles curbside in bins on recycling day and to start recycling programs at work, according to the Minneapolis Star Tribune article.
Personally, I think it's great the MPCA has taken such a visual initiative to showcase the need for recycling. There are tons of possibilities for recycled plastic bottles. From the world's longest bridge made out of plastic bottles and other household plastic waste to Nike Olympic uniforms made from up to 13 recycled bottles to plastic bottles that can be repurposed into recycled content for high-end glasses, shoes and bags – recycling gives plastic bottles a new life. Instead of wearing shirts with the classic Nike slogan "Just Do It," maybe the PET and recycling industries should adopt, "Just Recycle it."
SOURCE : http://www.plasticstoday.com/blogs/Minnesota-State-Fair-sends-a-message-through-a-bottle-0829201202