In the Middle East, new July PP and PE announcements were mostly announced with decreases, in line with previous market expectations, according to ChemOrbis. The only exception to this was a major Saudi Arabian producer's PE prices that they announced in their own local market.
A major Saudi Arabian producer cut their July PP raffia and injection prices by SAR112/ton ($30/ton) from June while they issued rollovers on their July HDPE and LDPE film prices and lifted up their HDPE blow moulding prices by of SAR236/ton ($63/ton). Apart from these, the producer lowered their July LLDPE film prices by SAR113/ton ($30/ton).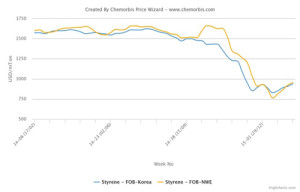 A trader who received these offers from the producer noted, "We were expecting declines all the way down for July PP and PE prices but the producer opted for a mixed pricing policy. All the other major global markets are tracking a downward trend and players here in Saudi Arabia were expecting decreases from the producer, too. At the moment, supply levels are very comfortable and demand is thin. Buyers are resisting the higher price levels while no revival is anticipated from the end products markets anytime soon."
In order to track weekly developments in the Middle East's PP market, please see our bi-weekly Polymer Digest Middle East PP Polymer Digest (For members only)
Meanwhile, a trader who received prices from another Saudi Arabian producer noted, "Trading activities perform slowly in the market and buyers are currently postponing their purchases. We are not expecting any great changes until the Ramadan holiday is over. Saudi Arabian players mostly complain that the prices in their country are above the levels given for Saudi Arabian origins in other global markets. If the buying interest remains as weak as it is now, we anticipate downward adjustments."
In the United Arab Emirates, a trader reported receiving $10-30/ton PP and PE decreases from the Middle Eastern producers for July. "Supplies are ample while the local producer's offers are the most competitive ones amongst other prices reported. Trading activities have slowed down further due to Ramadan."
In order to track weekly developments in the Middle East's PE market, please see our bi-weekly Polymer Digest Middle East PE Polymer Digest (For members only)
A different trader operating in Dubai said, "July prices saw decreases, in line with expectancies. However, players are still hesitant to make purchases given the poorly performing demand. Market activities are generally stagnant during Ramadan and we are aiming to negotiate prices further before committing to new cargoes."
Another trader, who obtained $90/ton decreases for July homo-PP from the local Emirati producer, added, "Demand is weak and supply levels are comfortable in general. We are not experiencing any tightness like in the previous months although HDPE film supplies appear to be a little bit on the tight side."
In Jordan, a film products converter, who received new July LLDPE film offers from two different Saudi Arabian producers, noted, "One of these producers rolled over their prices while the other one made a $40/ton cut from the levels we last received in June. However, despite the latter producer's $40/ton decrease, their prices are still very high and remain above the prices of the producer who announced a rollover. Considering the current LLDPE film offers we received, we are not that satisfied at all. We prefer to postpone our purchases given our sufficient stock levels. Plus, the Ramadan holiday is around the corner and demand is retreating further."
Another buyer reported receiving $60-80/ton drops for July PE and $70/ton decreases for PP from a major Saudi producer. The buyer said, "Supplies are available for all products while demand is slow since buyers, who are expecting further drops in August, are sidelined from the market in line with the approaching Ramadan holiday."
In Lebanon, a converter commented that they received $40/ton declines for PP. He noted that they are trying to negotiate down these levels while adding that players in general are acting cautiously given their expectations of further decreases in the days ahead. "Demand is moderate and traders are open to negotiations for up to $10/ton discounts, but buyers remain cautious," he further added.
A trader remarked, "Players, anticipating further softening in the days ahead, are pushing for lower levels. Plus, the unstable political situation continues to weigh down on the market. Prices are, therefore, following a softer track."
A household products manufacturer reported receiving new July PE offers from two different Middle Eastern producers with decreases ranging between $10-60/ton from June as per ChemOrbis pricing service. "The offers we received from a major Saudi producer are the initial list prices and we believe that they are subject to negotiation. Buyers appear to be starting to build up some stocks. But they do it in moderation as they do not want to enter the Ramadan holiday without inventory. Regarding availability, players make no complaints at all," he added.