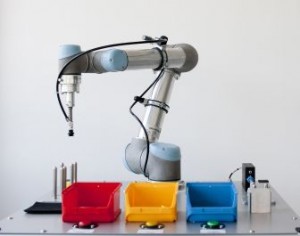 Arburg, in collaboration with Polysecure, will present a practical marker system to counter counterfeit problem at Motek, to be held from October 8-11 in Stuttgart, Germany. Quoting VDMA figures, Arburg says lost sales through product piracy amount to some 6.4 billion euro annually in the German machine and plant construction industry alone. Every eleventh company affected by counterfeit products belongs to the plastics and rubber processing machine segment.
With the optical and ceramic markers from Polysecure, it is now possible for the first time to reliably identify molded parts as genuine supplier products as well as detecting forgeries that appear identical at first glance. As said, the plastic material is labeled using a minute quantity of a chemical marker for this purpose.
This material is heat-resistant up to 2,000°C, does not affect the material properties and is completely non-toxic as well as insoluble. The markers can be provided with a code containing, for example, information on the year of manufacture or batch number. This encoded information can then be read non-destructively using an x-ray fluorescence spectroscope.
The material marker from Polysecure offers several advantages, for example in the case of property or personal damage claims regarding products which may not actually stem from the injection molding company's production. In addition, because the marker powder from Polysecure can be mixed with numerous materials, this is also possible without problems in thermoplastics.
This technology will be demonstrated live at the joint Polysecure and WMV-Robotics booth. Arburg will provide shopping cart chips made from marked and unmarked plastic for sorting. As introduced, a world's first authentication six-axis robot with pneumatic suction cups, Brandproof, will transfers the part from a storage system to an optical detecctor, which recognizes the marker in the part through its characteristic fluorescence. The authentic parts are then moved to a receiving container and the counterfeit parts separated out.
The cycle time is between one and four seconds per molded part and error rate is said to be virtually zero. This solution is suited for quality assurance applications in high volume production for the purpose of product verification during the logistics process prior to installation.
SOURCE : http://www.adsalecprj.com/Publicity/MarketNews/lang-eng/article-126557/Article.aspx