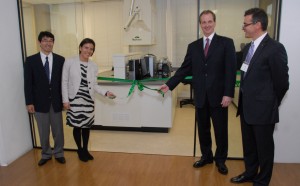 14 December 2012: Malvern, UK: In December 2012, in support of continued, strong business growth in South America, materials characterization company Malvern Instruments opened a new applications and demonstration laboratory in Brazil. Located at the São Paulo facility of Malvern's parent company Spectris, the new laboratory will provide pre- and post-sales support to customers across all of Malvern's technology areas, and will augment established particle characterization demonstration labs elsewhere in Brazil.
The new laboratory will be equipped with instruments spanning Malvern's entire range of particle characterization, protein measurement and rheology systems and will be a highly valuable resource for the company's dealer in the region, Altmann SA www.altmann.com.br
Edna Alvarez, Latin America Sales Manager for Malvern, said, "I am delighted that Malvern has been able to set up such an excellent laboratory facility and very much look forward to welcoming customers from Brazil and elsewhere in South America. We have long enjoyed a very successful relationship with Altmann SA, our dealer in Brazil, and I am especially pleased to be providing them with access to further local demonstration, technical and applications support."
Strong customer relationships and exceptional service are at the heart of Malvern's business and the company strives to deliver the same service excellence the world over. The establishment of this new laboratory in São Paulo follows the opening in March this year of a brand new Malvern facility in Houston, Texas, which not only serves customers in the USA but supports some of the emerging markets in Latin America.
"We have a deep commitment to South America and to ensuring that all our customers there get the most out of their investment in a Malvern instrument," said Brian Dutko, President of The Americas Operations for Malvern. "With excellent distribution partners on the ground and especially strong growth in countries like Brazil we want to lead the market in delivering the best possible customer experience for what are world-leading materials characterization systems."
Malvern's materials characterization technology and expertise enables scientists and engineers to understand and control the properties of dispersed systems. These range from proteins and polymers in solution, particle and nanoparticle suspensions and emulsions, to sprays and aerosols, bulk powders and high concentration slurries. Malvern's instruments are used to measure particle size, particle shape, zeta potential, molecular weight, size and conformation, rheological properties and for chemical identification. This information helps accelerate research and product development, enhance and maintain product quality and optimize process efficiency in industry and academia, from life sciences, pharmaceuticals and nanomaterials, to agrochemicals, surface coatings and cement production. www.malvern.com