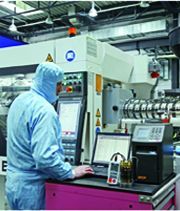 One of the interesting medical demonstrations at NPE 2012 will be molding of components in a multi-cavity mold for SHL, a major Swedish producer of drug delivery devices.
It will be representative of one of the medical market trends to look for at this year's NPE: An increasing emphasis on technologies that help reduce costs. Higher tooling cavitation is one approach; another is integrated, highly productive systems.
An all-electric Engel e-motion 80H/80W/200 T WP US combi will be producing components for auto-injectors in a two-component injection molding process with a servo-electrical 16+16-cavity index platen mold. The mold is provided by Hack Mold Making, Kirchheim and Teck, Germany.
The manufacturing cell at the show will run fully automated. Multiple-axis robot will remove the parts and deposit them in trays. Engel easix, the multiple-axis industry robot which is completely integrated in the CC 200-control of the injection molding machine, will be on exhibit for the first time in North America.
16-cavity polystyrene mold
In a second manufacturing cell for the medical industry at NPE 2012, an all-electric Engel e-motion 310/110 T US injection molding machine will produce polystyrene needle holders for safety syringes using a 16-cavity precision mold from Fostag, Stein am Rhein, Switzerland.
The finished parts will be removed from the mold and deposited based on their cavity-orientation. Defective mold cavities can be turned off individually without disturbing the balance of the system. The automation  partner for the exhibit is Hekuma (Eching,Germany).
Another trend in medical processing is a broad range of capabilities, such as liquid silicone rubber (LSR) molding. That will also be on display at the Engel booth.
Medical membranes will be molded on an e-victory 310/130 LSR US. "The hybrid ENGEL e-victory machines with hydraulic, tie-bar-less clamp and all-electric injection unit are the future in the area of liquid silicone processing", maintains Leopold Praher, sales manager elast/LIM-machines at Engel Austria. "Precision is gaining in importance in this application area. A production free of post-processing, with low-grade flash, is required. "
The membranes will be made out of LSR 50 Shore (A) from Shin-Etsu Silicones (Akron, OH) in a 64-cavity mold with a cold runner block and a needle valve from ACH Solution (Fischlham, Austria).
The system also runs fully automated.
NPE 2012 will be held in Orlando, FL April 1-5. Engel will be in booth 943 located in West Hall, level two. Engel North America is based in York, PA.
Source : www.plasticstoday.com