UK packaging group Linpac has installed a third extruder at its Ritterhude, Germany site, enabling it to deliver products made from up to 100% recycled content for the first time.
For the past year, the German site has been able to manufacture mono sheet averaging 93% post consumer recyclate (PCR).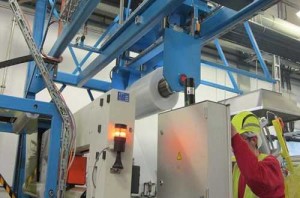 Adam Barnett, Managing Director for northern Europe at Linpac, said, "This major investment demonstrates our commitment to an important market for Linpac. It is vital that, as the German market continues its shift from polypropylene (PP) towards polyethylene terephthalate (PET), we are able to meet growing customer demand for products which are lighter, cheaper and more sustainable."
In the past five years, Linpac has invested €9 million in new plant and equipment at its two German sites, including €3 million on PET extrusion and automation facilities in Ritterhude.
PET and recycled PET (rPET) is becoming increasingly popular as a packaging material across Europe due to its versatility, lightweight nature, barrier and food safe properties, as well as its recyclability, according to the company.
Linpac stated that its rPET manufacturing processes is already vetted and approved by European Food Safety Authority (EFSA) in 2013, indicating that the products did not give rise to concern for a risk to human health, even when made using 100% PCR.
Barnett added, "As the trend towards the use of recycled plastics in food packaging grows, the challenge for plastics processors supplying the industry is ensuring that the recycled plastic is suitable for food use and free from contamination. Our customers can have complete peace of mind when choosing LINPAC rPET that this is the case. The entire structure is food safe, visible, controlled and challenged."
Website:                      www.adsalecprj.com