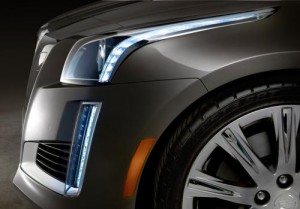 Using almost 200 light-emitting diodes in the front and back of the new 2014 CTS, Cadillac designers are showing how LEDs can change the character of a vehicle. "LEDs have helped us put a more aggressive face on the car," Brian Smith, Cadillac CTS exterior design manager, told Design News."We've gone out of our way to make sure that when this car comes up behind you, day or night, you'll recognize it instantly."
The CTS, a midsize luxury car, is said to be the first vehicle to employ dual LED-based daytime running lights, which consist of two groups of eight white LEDs at each headlight. An extra set of co-located amber LEDs will also serve as turn signals. And the vehicle's back end will employ 51 red LEDs at each tail light, and 48 more for the center high mount stop lamp (CHMSL) on the trunk lid.
The use of LEDs on vehicles is hardly a new idea — manufacturers of luxury cars have been using them for years. The Ford Mustang has even employed them in cup holders, map pockets, dashboards, and footwells. Similarly, the entry-level Dodge Dart recently used them to form a ruby red "racetrack" around the car's trunk.
But Cadillac's effort applies a slightly new twist to the use of LEDs, largely because designers are employing them more subtly, with the idea of changing the car's character, much as big fins did on vehicles a half-century ago. "With LEDs, we can line them up in various orientations, we can bounce their light off reflectors, we can use lenses to create effects, or we can delineate certain parts of the vehicle," Smith told us. "To make shapes with (incandescent) lamps and bulbs would have been much more difficult."
On the CTS, Cadillac designers wanted to create an aggressive face with slim, uniformly-lit lamps. They saw it as a change from earlier Cadillac vehicles, which used big bright blocks of LEDs in ways that were less satisfying to the eye. In essence, the CTS replaces those big bright blocks with a trimmer, more elegant signature. "The corners of this car in the front are unique, and LEDs were a big enabler of that," Smith said.
As LED prices continue to drop, Cadillac and other automakers are likely to incorporate more of them in their exterior designs. LEDs provide packaging and power benefits, as well as instantaneous illumination, which promotes safety, Smith said. "We're still learning how to best integrate LEDs into our designs," he told us. "But we know that they will definitely give us more design freedom."
Source: http://www.designnews.com/author.asp?section_id=1395&doc_id=263535&itc=dn_analysis_element&