Geneva/Switzerland, July 2013 – – At the Paris Air Show 2013, June 17th to 23rd,DuPont performance Polymers highlighted two new high performance products for aerospace applications. DuPont™ Kalrez® AeroSeal™ 7800 perfluoroelastomer parts help minimizing corrosion of titanium and stainless steel for longer part life.
DuPont™ Vespel® ASB-0670 parts for fan blade wear strips provide significantly longer wear life versus incumbent coatings. DuPont™ Kalrez® and DuPont™ Vespel® high performance parts have provided innovative solutions to complex aerospace sealing, wear and friction challenges at high temperatures for over 45 years. Kalrez® perfluoroelastomer parts are used as oil seals in turbine and jet engines and air delivery systems. Vespel® parts offer very high temperature capability, wear resistance, and low friction to effectively replace metallic materials.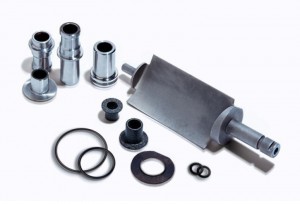 "DuPont tests with Kalrez® AeroSeal™ 7800 parts demonstrate low corrosion in titanium and steel for 1000 hours @ 250 °C with excellent compression set resistance, and offer a maximum service temperature of 325 °C", says Mark Schmeckpeper, global aerospace marketing manager DuPont™ Kalrez® and Vespel®. And he continues: "Our equally new Vespel® ASB-0670 parts perform in very demanding conditions. They can be found in blade wear strips, where friction and load create high stress. They provide improved wear resistance and a low coefficient of friction compared to other polyimides over a wide range of temperatures. In DuPont wear tests, that have been confirmed by customer tests, Vespel® ASB-0670 parts have shown exceptional performance."
Polyimides Improve Wear Resistance, Reduce Weight
Vespel® SCP parts, which debuted at Paris Air Show in 2011, provide improved wear resistance at elevated temperatures and a low coefficient of friction compared to earlier polyimides. In applications where non-metallic materials have never been widely used, engineers are relying on the high-temperature capabilities and wear resistance of Vespel® SCP parts to replace metal, thus saving weight and improving fuel effiency.
"SCP parts are a key reason why we're gaining more and more approvals for use in aircraft systems in wear applications, including bumpers, wear pads, bushings, seals and shrouds," said Schmeckpeper. Vespel® SCP parts typically weigh 75 to 80 percent less than stainless steel and substantially less than aluminum or titanium components.DuPont™ Kalrez® and Vespel® high-performance parts provide innovative solutions to aerospace designers and specifiers when complex sealing, wear or friction difficulties are encountered. To learn more about Vespel® in aerospace/aircraft visit www.vespel.dupont.com. To learn more about Kalrez® parts in aersospace/aircraft visit www.kalrez.dupont.com.
"Together, we can fly farther, faster, longer and safer"
From aircraft to the Mars Rover, from support equipment to operations, DuPont provides a wide range of products and solutions such as lighter weight materials and safer ways to operate to meet the unique needs of the industry. Keeping with the slogan "Together, we can fly farther, faster, longer and safer" DuPont showcased at the Paris Air Show a selection of its key products and latest solutions that can help the aerospace industry meet the need for reduced weight and increased engine efficiency.