Cologne – Specialty chemicals company LANXESS and the distributor Mito Polimeri S.r.l signed an agreement concerning the distribution of the high performance plastics product lines Durethan (PA 6, PA 6.6) and Pocan (PBT) in Italy. As part of LANXESS' new distribution strategy the cooperation extends the current geographical scope including the regions of Piemont, Liguria, Valle d'Aosta and Lombardy.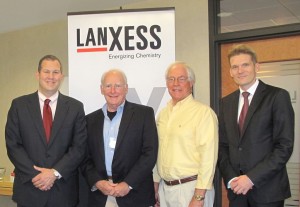 "Distributors are an essential fit in the marketing strategy of LANXESS to reach maximum efficiency and deep market penetration. Particularly for the high technical and fragmented Italian injection moulding market it is crucial to rely on a skilled and efficient distributor," says Frederique van Baarle, Head of Advanced Materials EMEA within LANXESS High Performance Materials business unit. "We are confident that the choice of Mito Polimeri will further boost our sales in a highly competitive and dynamic market and strengthen our customer foundation."
Italy is an attractive market for a number of segments, including automotive and electronic articles, plus household goods, sports and leisure products and consumer goods. LANXESS considers the partnership with Mito Polimeri as a key factor for its long term success in these markets. In reshaping its portfolio business model, LANXESS selects partners evaluating their ability to best serve customers with regards to proven technical, industry and market expertise as well as established service and logistics capabilities and geographical coverage.
The cooperation between LANXESS and Mito Polimeri dates back more than 30 years and turned out as a partnership with intense cooperation. "Understanding and sharing the supplier's strategy, fulfilling customers' expectations and keeping a clear focus on the distribution market and its value chain have always been Mito Polimeri's objectives," says Ado Salamon, President of Mito Polimeri. "Our successful long term cooperation is the result of trust, straightforwardness and mutual recognition."
According to Salamon distributors are expected to have wide access to industries and deeper market penetration, expanding the supplier's coverage in the marketplace. "We have been working constantly to align the company's strategy to our principal. We offer our know-how, technical expertise and application support as well as sales and marketing tools to develop the business," Salamon says. "We are very proud of the strategic choice of LANXESS, which fortifies our strategy and further motivate us in a challenging market environment."