Technical alliance will focus on developing new synthetic rubber grades and technologies for high-performance tires 
Further strengthening of ties between LANXESS and Hankook Tire following long-term supply agreement 
Cologne/Seoul – German specialty chemicals company LANXESS and Korean Hankook Tire signed a memorandum of understanding (MOU) on February 26 to co-develop synthetic rubber technologies for high-performance tires.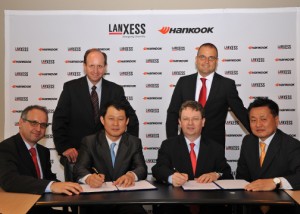 Under the agreement, the two companies will jointly study the development of new high-performance synthetic rubber grades and applications that increase the performance of tires from early stages of product development.
LANXESS and Hankook Tire have maintained a close partnership since 2008, when Hankook Tire awarded LANXESS a long-term contract to supply solution styrene-butadiene rubber (S-SBR) and neodymium performance butadiene rubber (Nd-PBR) – both core materials for high-performance tires. This newly established technical partnership is expected to further strengthen the ties between LANXESS and Hankook Tire.
The market for high-performance tires is showing a rapid rise due to increasing demand for premium tires and the introduction of tire labeling in South Korea, the European Union (EU) and Japan. In December 2012, South Korea became the second market in the world after the EU to implement a mandatory tire labeling system. Since then, high-performance synthetic rubbers for high-performance tires have stirred major interest among Korea's tire and automotive-related industries. Japan introduced a voluntary label in 2010, while Brazil will follow with a labeling system in 2016. China and the United States are similarly developing implementation plans.
LANXESS, the world's largest synthetic rubber supplier, provides high-performance synthetic rubbers to globally leading tire makers. Last October, the company launched two new easy-processing Nd-PBR rubber grades – Buna Nd 22 EZ and Buna Nd 24 EZ – aimed at the fast-growing high-performance tires market, especially in Asia. LANXESS is also currently building the world's largest Nd-PBR manufacturing facility in Singapore and this is expected to come on stream in 2015.
Dr. Joachim Grub, head of the Performance Butadiene Rubbers business unit, said, "LANXESS has a strong reputation for sophisticated and customized R&D efforts and for having 'innovation' as its key driving force. In this new technical partnership, we will assist Hankook Tire in achieving a key position as a global tire maker of high-quality products based on leading-edge technologies."
Dr. Lee Sang Ju, Senior Vice President and Head of Global R&D at Hankook Tire, said, "Based on our proven technological excellence, Hankook Tire has been focusing on high-performance tire sector and has made continuous R&D and investment efforts as part of our pathway towards becoming a global top-tier tire company." He also added, "Our continued R&D efforts with this technical partnership will further contribute to solidify our position as a global premium tire maker with even more advanced tire technology."
The technical partnership with LANXESS represents part of Hankook Tire's continued R&D efforts. Coupled with the company's investment for a new Central R&D Center and a Test Engineering Center in Korea, this additional R&D effort, based on a far more interactive knowledge sharing with LANXESS, is expected to accelerate Hankook Tire's pursuit to further advance its technological prowess beyond competition.
About Hankook Tire
Hankook Tire (Vice Chairman & CEO: Seung Hwa Suh) is the leading and one of the fastest growing tire companies in the world. As a tire manufacturer dedicated to contributing to advancement in driving, Hankook Tire intensively invests in research and development via five R&D centers around the world. Applying the newest innovative technologies and solutions, it produces superior quality and high- performance radial tires for passenger cars, 4x4s, SUVs, light trucks, campers, trucks, buses and motorsport at its seven manufacturing facilities in four different countries. Hankook Tire currently employs approximately 20,000 people around the world, and its products are available worldwide in over 180 countries.
About LANXESS Performance Butadiene Rubbers business unit
The Performance Butadiene Rubbers business unit (PBR) specializes in the production of versatile polybutadiene, high-performance solution styrene-butadiene (S-SBR) and neodymium-based performance butadiene rubbers (Nd-PBR). Its product portfolio also includes general-purpose E-SBR. This classic tire rubber remains one of the most widely used polymers available today. The business unit manufactures this elastomer with a cost-effective process that has been optimized over many decades. The PBR business unit is part of LANXESS' Performance Polymers segment.
You can find further information concerning LANXESS chemistry in our WebMagazine at http://webmagazine.lanxess.com.