KATHMANDU: The country's only metropolis has decided to ban low-quality plastic bags from June 15.
"Although the Kathmandu Metropolitan City is yet to hold discussions with plastic bag manufacturers and business communities, and prepare a concrete plan, we will enforce the ban," KMC officials said today.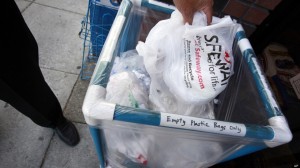 Despite the KMC's plan to ban plastic bags that are less than 35 microns thick, producers are insisting that the civic body allow the use of 20-micron plastic bags, at the least.
"The ban will take effect from June 15," said Rabin Man Shrestha, chief, KMC's Environment Management Division, adding that they will discuss the matter with stakeholders on June 11.
He said the users of banned bags will have to pay Rs 500 as fine while the manufacturers will have to cough up Rs 1,000 from June 15 for each instance of rule violation. The KMC move is part of a campaign aimed to minimise the use of plastic bags and save the environment.
According to KMC, most of the 60 manufacturers based in the city have been producing substandard plastic bags due to lax monitoring on the part of authorities concerned.
Producers have urged the KMC not to impose the decision without feasible alternatives.
"The paper and cotton bags are very feasible alternatives," Shrestha said, calling people to use them.
"Apart from launching awareness campaigns against the use of plastic bags, we have trained school representatives, NGO staff and ward supervisors on making paper and cotton bags," said officials.
Source: http://www.thehimalayantimes.com/fullNews.php?headline=KMC+set+to+ban+low-quality+plastic+bags&NewsID=379388