Harting China and Harting Hong Kong celebrated their 15th and 25th anniversary respectively in November, 2013.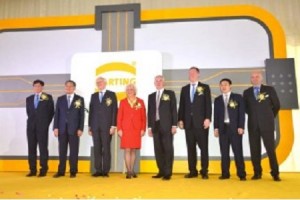 Philip F. W. Harting, Senior Vice President Connectivity & Networks, Harting Führungs AG, comments, "We are extending our commitment in China even further and stand shoulder to shoulder with you as a partner whom you can trust. We are looking forward to being able to learn even more from the entrepreneurial spirit, economic policy and commitment of this country over the next few years. We are also here for mutual learning, and we bring the experience and the spirit of innovation of a hidden champion made in Germany."
Harting has mainly focused on the factory automation, transportation, renewable energy, power transmission and machinery markets. As said, it is the first global connector manufacturer in the Chinese market being awarded the China Compulsory Certification (CCC).
At present, Harting is operating sales network in Hong Kong, Zhuhai, Shenzhen, Guangzhou, Xiamen, Changsha, Wuhan, Hangzhou, Shanghai, Suzhou, Nanjing, Chengdu, Xian, Zhengzhou, Qingdao, Tianjin, Beijing, Shenyang, Changchun and Taiwan. The company also operates a US$16 million manufacturing site is located in Zhuhai, China.
Source: http://www.adsalecprj.com/Publicity/MarketNews/lang-eng/article-67010389/NewsArticle.aspx