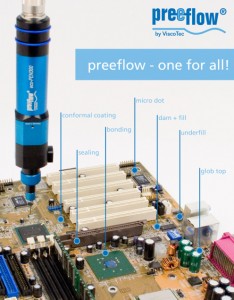 In the competitive world of electronics assembly the demand for greater precision and repeatability of adhesive dispensing within ever smaller and denser pcb real estate is addressed by the Intertronics/preeflow partnership of application experts and leading edge products. By utilisation of preeflow endless piston technology to optimise the adhesive/dispensing process, it has been found possible to save up to 30% of adhesive while operating to an accuracy of ±1% with over 99% repeatability in manual or automated manufacturing environments.
preeflow dispensing equipment gives true accuracy and repeatability with a high degree of tolerance for material behaviour such as viscosity or viscosity change with temperature. This makes it suitable for low viscosity conformal coatings or underfill applications, as well as high viscosity dam and fill and glob top encapsulation. Other applications include sealing, bonding, micro dots and even use with fragile fillers or constituents such as microcapsules.
Intertronics engineers offer experienced application assistance to OEMs and sub-contract assembly specialists on use of micro-dispensing equipment such as the preeflow technologies where the volumetric delivery at the dispensing tip is independent of pressure, time and temperature as well as pressure stable and pulsation free. This performance enables high density, high viscosity materials to be applied with very high accuracy and reliability especially in electronics, but also electrical, medical and food industries.
For further information please see www.intertronics.co.uk/preeflow-precision-dispensing or visit their blog at www.adhere.uk.com