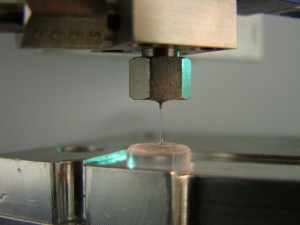 As technologies develop in industries such as electronics, energy, packaging, medical devices, cosmetics and pharmaceuticals and automotive, Intertronics have understood the need for ever more precise, reliable dispensing of micro quantities of adhesives and similar materials. They are therefore delighted to announce a new partnership for 2013 with Liquidyn GmbH, specialist manufacturers of high precision contactless micro dispensing equipment, delivering stable, accurate, fast and flexible performance.
As explained by Peter Swanson, M.D. at Intertronics, "The partnership with Liquidyn is a most valuable addition to our portfolio for dispensing of materials such as oils, greases, silicones, paint, flux and filled products, as well as adhesives. Once again as a company we are fulfilling the needs of our customers for high repeatability, high accuracy, high speed, robotic compatible dispensing systems at reasonable cost."
Flagship products in the Intertronics Liquidyn program are the P-Jet CT – a newly introduced high accuracy jetting valve for contactless dispensing of low to medium viscosity fluids at frequencies up to 280Hz – plus the industry proven P-Dot pneumatic system for jet dispensing of dots, beads and lines of medium to high viscous chemicals (including filled materials) in droplet sizes from 0.3mm to 5mm diameter, and at ranges of 2mm to 10mm.
Intertronics are enthusiastic that the Liquidyn products will aid manufacturers yet again in streamlining production cycles, while enhancing quality and achieving reduced piece part costs.
For further information http://www.intertronics.co.uk