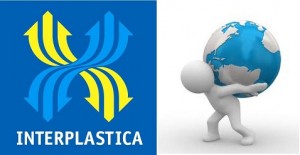 20,000 experts visit the leading trade fair in Moscow/exhibitors report very lively interest
The Russian economy is growing again! The effects of the global economic crisis have basically been overcome and, even if the dynamism of the years leading up to the crisis has yet to be attained again, there are clear signs of recovery in every sector of the economy, and in particular in the plastics and rubber market. The development of key customer industries, first and foremost the packaging industry, is leading to growing demand for plastic and rubber products. The construction industry has also recovered, although less due to major new building projects than to extensive renovation and modernisation work throughout the country, which need a wide variety of products such as insulation material, pipes, window frames etc.. A lot of small and medium-sized companies have sprung up in the last few years, which are investing in the expansion of existing capacity and the creation of new factories, not least due to state support, which is creating very good prospects for sales of raw materials as well as plastic and rubber machines.
INTERPLASTICA 2012, the International Trade Fair for Plastics & Rubber, has profited from the economic recovery in the industry and underpinned its leading position in Russia impressively. New projects with well-known business partners and promising new contacts meant that the 550 exhibitors from 28 different countries went away very satisfied with the event. About 20,000 experts from the industry from throughout Russia and the neighbouring countries came to the exhibition centre SAO Expocentr in Krasnaya Presnya in Moscow from 24 – 27 January, to find out about the latest innovations in the fields of mechanical engineering, raw material production and processing, and to visit UPAKOVKA/UPAK ITALIA, the Trade Fair for Packaging Machinery, Packaging Production and Packaging Material, which was held in parallel to INTERPLASTICA, thus matching the previous year's success.
"It is really paying off for the international exhibitors at INTERPLASTICA who maintained their presence here and kept in touch with their Russian partners during the crisis now", sums up Werner M. Dornscheidt, Chairman and CEO of Messe Düsseldorf GmbH. "Now that business has picked up again significantly, they are profiting from the good investment climate and their order books are nice and full. The trade visitors take the unique opportunity here at INTERPLASTICA to find out about the latest developments on the global market and to negotiate with vendors right away here at the fair."
The recovery of the Russian industry has been especially good for German manufacturers of plastic and rubber machines in the past year. Their exports to Russia in the first eleven months of 2011 amounted to €169 M and were thus some 62% higher than in the same period in 2010. Germany is still in first place among the supplier countries for Russian plastic and rubber producers, accounting for 31.1% of total exports in 2010, followed by Italy, which accounted for 13.3%, and China, which accounted for 12.5%.
Bernd Nötel from the Fachverband Kunststoff- und Gummimaschinen im VDMA (association for plastics and rubber machinery within the VDMA) is optimistic about the prospects for machinery sales in the years ahead, too. "We want to significantly increase our share of the value chain in Russia, which is why we are no longer concentrating solely on exporting raw materials such as oil, but also investing in the processing of these materials. The plastics manufacturing and processing industry at home in Germany also benefits from this, as modern machines are essential in order to remain competitive, so there is still great demand for replacement machines and modernisation. German plant is highly valued due to its high quality and state-of-the-art technology, and German-Russian business relations, which also include the provision of extensive training and services to the customers, are often very long-lived."
Apart from Russia and Germany, Italy has traditionally been the best represented at INTERPLASTICA. Mario Maggiani from ASSOCOMAPLAST, the Italian Plastics and Rubber Processing Machinery and Moulds Manufacturers' Association, confirmed what his German counterpart had said about the importance of the Russian market for suppliers of plastic and rubber machines. "The signals from the market are very positive, even if the economic recovery in Russia is somewhat slower than in the other BRIC countries. We have yet to reach the pre-crisis export level to Russia, but demand has picked up a lot and we are very confident that the next few months will be very good. The packaging sector, in particular, is generating brisk business, although the construction industry is also seeing a lot more activity again, especially due to modernisation and repair work. The companies in our association have great confidence in the Russian market."
The trade visitors were especially interested in new, sophisticated technologies and system solutions. Many of those who came to INTERPLASTICA were well informed and were interested in something specific. This was the 15th time that the fair was organised by Messe Düsseldorf and its Russian subsidiary OOO Messe Düsseldorf Moscow.
The next INTERPLASTICA in the Russian capital will take place from 29 January – 1 February 2013, once again in parallel with UPAKOVKA/UPAK ITALIA. For further information, please visit www.interplastica.de or contact Mr Stefan Koschke at Messe Düsseldorf GmbH, Tel. +49 (0)211/4560-7768, e-mail: [email protected] or Mrs Claudia Wolfgram, Tel. 0211/4560-7712, e-mail [email protected]
6 February 2012
Contact details for the press
Eva Rugenstein/Desislava Angelova (assistance)
 +49-211-4560 240
 +49-211-4560 8548
 [email protected]
 [email protected]
Exhibitor's comments on INTERPLASTICA 2012:
Starlinger & Co. GmbH, Angelika Huemer, Managing Partner, Austria
Russia is a very important market for us. We have been active here for many years and have learned that you need a great deal of patience – some projects take several years to come to fruition – but there is stable growth – not very fast, but constant. The customers here have become technologically much more demanding in recent years, which is good news for us, since we offer highly complex systems. Starlinger is the global market leader in the field of machines and process engineering for woven plastic sacks, and we also supply plastic recycling solutions. We have seen lively demand in the field of cement sack machines, as the paper sacks that still predominate here are not very resistant to tearing and result in significant losses. At INTERPLASTICA we meet customers and interested potential customers from throughout Russia as well as from neighbouring countries.
BASF SE, Dr. Rainer Büschl, Head of Communications, Performance Polymers, Germany
BASF has been very successful with standard polymers in Russia for a long time. In the near future we hope for business to pick up in the technical polymers sector, too. This is particularly due to the recovery in the automobile and packaging industries here. Bioplastics are also a hot topic now, but it is still early days.
Reifenhäuser GmbH & Co. KG machine works, Ulrich Reifenhäuser, Managing Partner, Germany
The BRIC countries in general – and Russia in particular – have given our company a very welcome boost. Even if the speed at which new orders are coming in has slowed a bit now, I still anticipate the steady growth to continue. We primarily supply machines for the production of blown film and flat film to Russian customers, as well as thermoforming sheet lines, first and foremost for the food industry. We are well positioned in the Russian market, in particular since the merger of Reifenhäuser Kiefel Extrusion. At INTERPLASTICA we present our new products to customers and interested potential customers from Russia and the entire GUS each year, and enter into concrete negotiations.
AZO, Karl-Heinz Bußbach, AZOPoly Division Manager, Germany
Both the level of demand and the lively contacts at INTERPLASTICA 2012 were significantly better than last year. It is noticeable that the situation has improved in every sector of industry. Nevertheless, growth is faster in some industries than others. AZO has seen strong demand in the field of flooring, although the rest of the infrastructure sector is still rather cautious. We offer turnkey systems for material handling and use this fair not only to meet customers and make new contacts, but also to find out more about developments in the market on the ground. It is very pleasing to see that it isn't just Russian trade visitors who attend, but also visitors from Kazakhstan, the Ukraine, Belarus, etc.
KAUTEX Maschinenbau GmbH, Hubert Moritz, Area Sales Manager, Germany
We primarily meet customers here who we have been dealing with for a long time already, although we have also met a few interesting new contacts, too. The development of business in the new year that has just begun looks very good for us, and we have seen strong demand, especially from the chemicals industry and the automotive sector. Looking at things in general, German-Russian business relations have developed very agreeably over the past few years – we know and trust each other.
Brückner Maschinenbau GmbH & Co. KG, Karl Zimmermann, Sales Director, Germany
We have had a large stand here at INTERPLASTICA for many years now, because we have confidence in the Russian market and can still see great potential for our company here, especially in the field of flexible packaging. We have also made contact with a lot of interested potential new customers again this year. That fact that we didn't withdraw from the Russian market during the crisis is really paying off for us, as business is picking up again now. We are optimistic that Russia will remain an interesting market in the years ahead, too. However, it would be very important to increase local raw material production, as the existing capacity for high quality raw materials is currently insufficient.
Akdeniz Kimya, Ersin Izmirlioglu, Export Sales Manager, Turkey
Russia is one of our main markets – we supply additives & stabilisers for PVC, such as are used in the production of window frames, for example. INTERPLASTICA, where we have had a stand for several years now, is an excellent opportunity for us, not only to meet new customers, but also to meet up with our existing business partners in person and to negotiate new deals with them. We also meet customers from the Ukraine, Belarus, Kazakhstan, Uzbekistan and other GUS countries here. In my opinion, the Russian market is likely to remain stable in the long term, even though recovery is less dynamic elsewhere in the world at the moment.
Windmöller & Hölscher, Reinhard Elting, Sales Director Eastern Europe, Germany
Food packaging is the area that is seeing the strongest growth in the Russian market at the moment, and in which Windmöller & Hölscher sees good sales prospects continuing in the future. For instance, we have seen how the packaging printing plants here in Russia are expanding their range of services and getting into film extrusion. There is also a clear trend towards more sophisticated technology, such as film extrusion of 3 layer film, and even 9 layer barrier film. This means that there is great demand for consulting services, and we also have our own subsidiary here in Russia as well as offering a wide range of services, all of which puts us in a good position. we are very optimistic for the future, especially when it comes to the use of film, as Russia has a lot of catching up to do in comparison to Western Europe.