Friedbert Klefenz, President of the Packaging Technology division of Robert Bosch GmbH, is the old and new President of interpack. He was unanimously re-elected to this office in April at the constitutive meeting of the Advisory Council for interpack 2017.
Both of the Vice-Presidents who held office in the 2014 council were re-elected as well: Christian Traumann, Managing Director of MULTIVAC Sepp Haggenmüller GmbH & Co. KG, and Bernhard Borgardt, Managing Director of Ostedruck Bernhard-J. Borgardt GmbH & Co. KG, who is also a member of the steering committee of the European Plastics Converters – EuPC association, a past president of IK (German Plastics Packaging Association), and a board member of GKV (the Central Federation of the Plastics Processing Industries in Germany).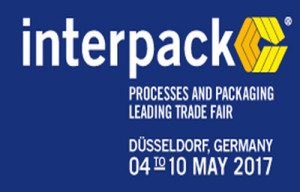 This first meeting of the Advisory Council of the world's most important trade fair for the packaging sector and related processing industries represents the official kick-off of the strategic orientation phase and concrete content-related preparations for the trade fair.
"The constructive collaboration with the Advisory Council is a key ingredient for a successful interpack. Close interaction with the leading companies in the industry is an essential prerequisite for precisely aligning the range of products and services offered to the needs of our exhibitors and visitors," states Werner Matthias Dornscheidt, President and CEO of Messe Düsseldorf.
Friedbert Klefenz, President of the Bosch Packaging Technology division commented as follows on his re-election: "What makes interpack in Düsseldorf so valuable is innovation. Every company participating in this worldwide leading trade fair presents real novelties – new products, new technologies, new applications. I am delighted to have been elected president once again and to get the chance to contribute to a successful interpack in 2017."
The topic of SAVE FOOD will again play a major role at interpack 2017, which will take place at the Düsseldorf exhibition centre from 4 to 10 May. In addition to the third SAVE FOOD congress, there will be a SAVE FOOD Exhibition. The SAVE FOOD initiative was officially launched as a co-operation between the Food and Agriculture Organisation of the United Nations and Messe Düsseldorf GmbH with a first congress in 2011. In 2013 the Environment Programme of the United Nations (UNEP) joined the initiative as a partner. Today, more than 120 companies and industry associations support the initiative.
In its second edition, "components for processing and packaging 2017" will be staged with a revised concept. This event for suppliers to packaging technology producers will be held at a central location in the exhibition centre in the temporary Hall 18. It will remain open for the complete duration of interpack.
Website:   www.interpack.com