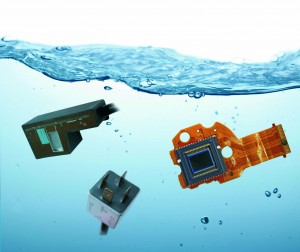 Grafenberg, July 31, 2012 – RAMPF Giessharze continues to cultivate its activities in the international electro casting resins market through its close collaboration with the RAMPF branches in Europe, the United States, China, and Japan. The Germany-based company is thus pooling its expertise in the manufacture and sale of polyurethane, epoxy resin systems, and silicones for protecting electrical and electronic components. With the RAMPF branches – RAMPF Group, Inc., RAMPF (Taicang) Co., Ltd. and RAMPF Group Japan, K.K. –, customer proximity is a key objective for RAMPF Giessharze.
Resin specialist RAMPF has been headquartered in Germany for over 30 years, but its branches worldwide benefit from the company's experience in the field of reaction resins. Solutions from RAMPF have been certified to ISO/TS 16949 for series and replacement parts production in the automotive industry.
The RAMPF Group's international branches offer the advantage of producing two-component electro casting resins, mixing and dispensing technologies, and technical support locally and in close proximity to the customer. In addition to other product lines, RAMPF Giessharze's product range for all key global markets includes Polyurethan resins, hot and cold curing epoxy resins, and silicones for electrical and electronic applications.
These resins have to meet a huge variety of requirements, including different densities and viscosities, extreme temperature differences, and protection against overheating, shocks, and chemicals. RAMPF Giessharze offers top-quality products with UL approval, high temperature resistance (B, F, H), and good chemical resistance.
As a system supplier of materials and machines, RAMPF offers compact mixing and dispensing technology for processing one-, two-, and multi-component electro casting resins. For all customer-specific requirements, RAMPF works on site with the customer to define the product-machine process and builds the specific system on a modular basis. RAMPF dispensing systems are constructed using tried-and-tested standard components designed to suit any application. The numerous system types can be subdivided into basis dispensing systems, compact dispensing cells, and dispensing systems with robots. The RAMPF portfolio also includes customized automation concepts such as manual systems, semi-automated solutions and fully automated systems with integrated handling robots, assembly workstations, conveyor systems, and curing ovens.
Future challenges for electro casting resins
The biggest challenges for the future lie in the research and development of plastics based on renewable raw materials and in recycling residual production materials. For that very reason, the RAMPF Group is investing in research into the potential uses of renewable raw materials for new electro casting resins.
RAMPF Giessharze GmbH & Co. KG, the nucleus of the RAMPF Group, is headquartered in Grafenberg, Germany. The company has specialized in the development, production and sale of resin systems made of polyurethane, epoxy and silicones since 1980. Its product portfolio includes liquid and thixotropic sealing systems, electro and engineering casting resins, edge and filter casting resins and two-component adhesives. RAMPF Giessharze offers solutions for all key industries around the globe.