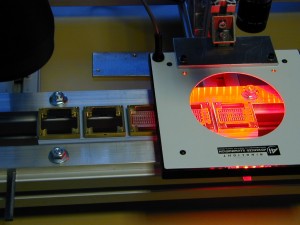 The event ΣYSTEMS INTEGRATION, initiated by the IVAM Microtechnology Network, takes place in theNetherlandsfor the first time. Since 2008, the successful event series has been providing the opportunity for manufacturers and users to exchange ideas about intelligent applications of microtechnological solutions. On June 17, 2014 the established symposium will focus on "Automation in the production and application of microfluidic devices in chemistry and biotechnology". The international symposium will take place in cooperation with WWINN Group in Almelo (NL). The presentations will be held in English.
The ΣYSTEMS INTEGRATION deals with microfluidic products and their manufacturing: Especially in this field there is a wide range of applications, such as medical technology, micro-process engineering, biotechnology, metering systems, inkjet printers or 3D printers. However the developed and tested prototypes have to be produced cost-effectively in order to be accepted in the market. Therefore it is essential to take into consideration the best compatible production and automation technology even while developing high-tech products.
The event addresses developers, manufacturers and users of microfluidic products and systems that are used in chemistry, biotechnology and other industries.
Please find further information at http://ivam.de/Systems14