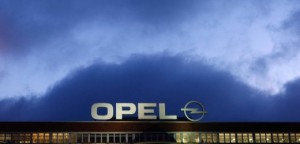 It's not all bad news these days about German automaker Opel, the European subsidiary of General Motors. The Rüsselsheim-based company has apparently developed a great car, the Astra GTC, a small coupé. A test driver from the Frankfurter Allgemeine Zeitung newspaper gave the new model a glowing review, describing it as a "talented" sports car with "exemplary" handling. The review was titled: "Man, Opel Builds Good Cars."
But few people are likely to have paid much attention to the article, which was published on Tuesday of last week. That's because rumors that Opel's plant in Bochum was threatened with closure made the rounds shortly afterwards. The workforce and German politicians reacted with alarm. "General Motor's long-running playing with its employees' fears over their jobs is irresponsible," said Hannelore Kraft, governor of the state of North Rhine-Westphalia, where Bochum is located.
Other automakers produce cars. Opel, it would seem, specializes in producing crises.
Shrinking Market
The manufacturer is suffering as a result of the shrinking car market in Europe. In the first two months of 2012, Opel and its British sister brand Vauxhall sold 20 percent fewer cars. The plant in Rüsselsheim has been forced to introduce a four-day working week during certain periods.
It's true that the slump has also hit Fiat, Peugeot and Renault, which are also dependent on the European market. Like GM, these manufacturers also have excess capacity, and they too will have to close factories. But their brands are not constantly being mentioned in connection with layoffs. Their management is simply smarter in that respect.
GM, on the other hand, seems to be motivated by a secret pleasure in self-flagellation. In early February, the Wall Street Journal reported that GM managers in Detroit were considering closing the plants in Bochum and Ellesmere Port in Britain.
Opel boss Karl-Friedrich Stracke has been given the task of developing a restructuring plan. It is clear that Opel can only achieve this with the approval of the powerful works council. The council made a deal with Opel that the company would refrain from closing any plants before the end of 2014, in return for the workforce agreeing to cut annual costs by €265 million ($350 million) by freezing salaries and waiving or reducing bonuses.
The GM management has had plenty of opportunities to discuss a way out of the crisis with the new works council chairman, Wolfgang Schäfer-Klug. But Schäfer-Klug says he has not been informed. "I currently do not know about any plans for plant closures," he said. And so the company can be unsettled at any time by an old or new rumor.
No Future
Opel CEO Stracke is not in a position to deny plans for a closure of the Bochum plant. After all, a plan exits in Detroit which indicates that a number of factories in Western Europe have no future.
An internal strategy paper titled "Global Assembly Footprint" was presented at a "GM Global Business Conference." According to the document, the US company plans, if sales increase, to produce 80 percent of the additional vehicles in so-called low-cost countries such as Poland, Russia, China, India, Mexico and Brazil. Currently, General Motors still produces nearly half of its cars in high-cost countries in North America and Europe.
The strategy means that plants in the United States, Britain and Germany are threatened with closure. In low-cost countries, however, production will be expanded. While production in Bochum is to be stopped by 2015 at the latest, production capacity in Gliwice, Poland, will be increased by 25 percent. Another reason why factories like those in Bochum have no future is because GM wants to increasingly supply the European market with imports from low-cost countries. By 2016, an additional 300,000 vehicles will be exported to Europe from plants in Mexico, Korea and China.
At the same time, the US automaker plans to consolidate its global range of models. According to an internal plan, the number of vehicle platforms, currently 30, will be cut to less than half that figure by 2018. In the future, there will hardly be any models that are developed specifically for a market like Europe.
Only Paying Attention to the Stock Market
The strategy could make GM more profitable in the short term, but it is likely to lose its position as the world's largest automaker as a result. One of the reasons that German automaker Volkswagen is gaining market share is because it is producing special models for large markets like the US and China.
GM appears to have its eye mainly on the stock markets. Volkswagen, however, is focusing on building cars. That's one reason why the Wolfsburg-based company would be unlikely to commit a gaffe like the one that befell Opel at the Geneva Motor Show.
Opel CEO Stracke proudly announced that Opel's Ampera electric model had been chosen as "Car of the Year." But the news earned him more ridicule than applause. With a keen sense for bad timing, GM had announced shortly before the start of the motor show that it was suspending the production of electric cars for several weeks — because demand was lower than expected.
Source : www.spiegel.de